Since this website was launched in 2012, Craig Morris has been its main blogger and the lead author of its annually updated e-book. Four updates and more than 400 blog posts later, he is moving on to work for the Renewables Grid Initiative. Today, he bids us farewell.
---
In my previous post, I talked about whether the energy transition could succeed. Let me add two reasons why I am optimistic to this, my final blog post:
Reason 1: In 2004, Germany adopted a target of 20% renewable electricity by 2020, a target numerous detractors doubted. But the 2002 nuclear phase-out would have removed the roughly 30% share of nuclear power by that date as well – meaning that fossil electricity would have covered the missing 10%. Top politicians stated that new coal plants and gas turbines would need to be built, and the sector set out to do so. Those plants were built, but not needed. And the share of renewables, now already around the new target for 2020 of 35%, is to be increased to 65% by 2030.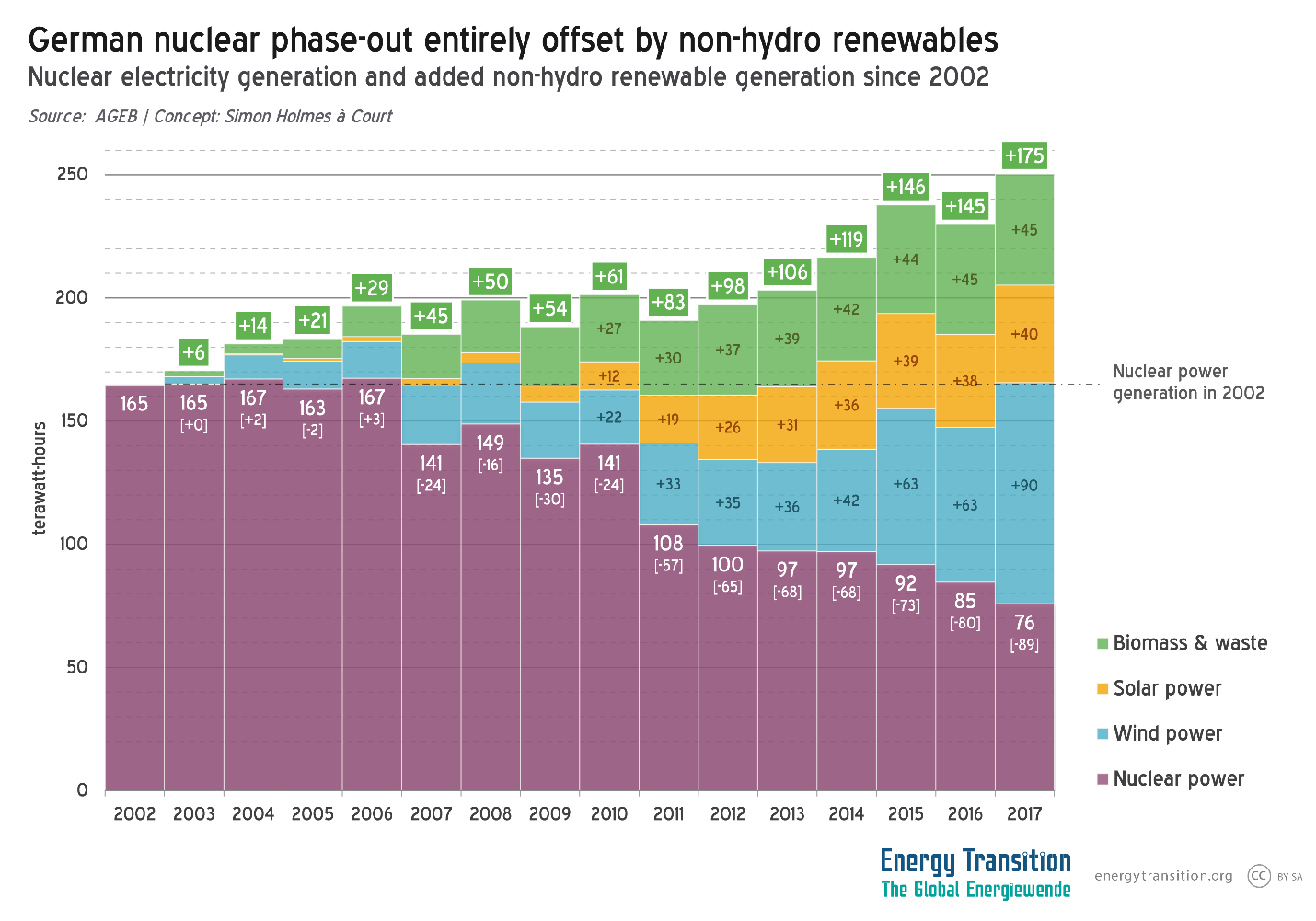 Reason 2: In 2011, when Chancellor Merkel closed eight of 17 nuclear reactors, detractors warned about power outages and reliance on power imports. Then, starting in 2012, Germany began preventing power outages in France with exports, becoming the greatest net exporter in Europe in 2017. And power reliability reached a record high.
So when the naysayers tell you that some future obstacle is insurmountable, remember they have always said that about everything – and we have moved twice as fast as we ever imagined possible.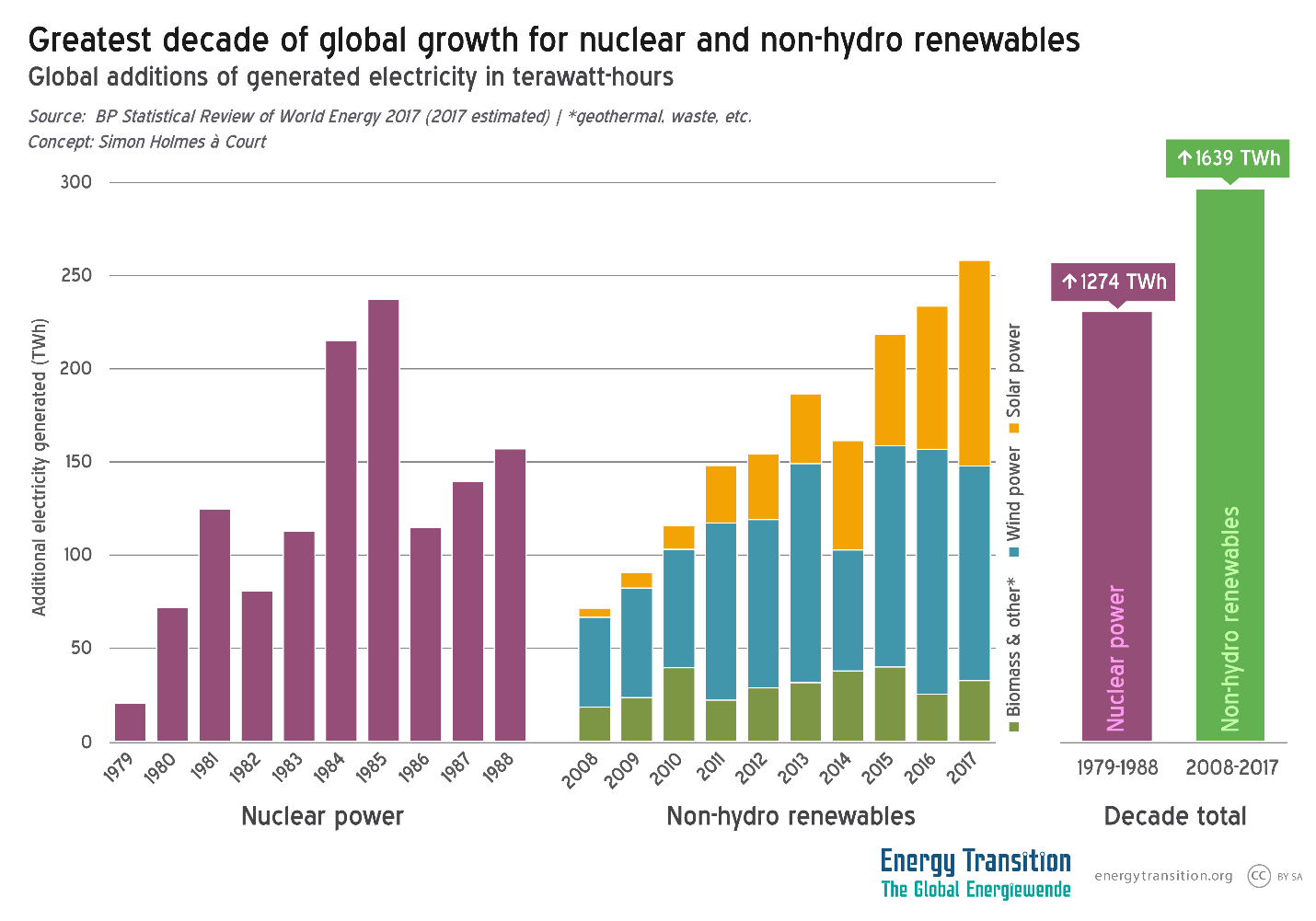 As recently as 2014, I produced some 600 blog posts a year, most of them at the now-defunct Renewables International website. A year and a half after stepping away from that project, I am leaving blogging altogether. On April 1, I joined the Renewables Grid Initiative, where I will help produce a scenario for future grid needs in a largely renewable power supply.
I will probably have withdrawal symptoms, but quitting blogging also feels like getting down from a bucking bronco in a rodeo. I had to cover a wide range of issues. I spent a few hours a day just reading in order to decide what topics were the most interesting. I'll miss being able to publish my two bits regularly, but being able to focus on something with defined boundaries sounds like a relief.
This project was specifically launched to fill a gap that arguably no longer exists. In the wake of Germany's reaction to the nuclear accident in Fukushima, few international onlookers were steeped in German energy policy, and neither the German government nor civil society had any international communication efforts in place. The result was what I call drive-by journalism: some foreign journalists hadn't bothered to look deeply enough into the subject and wrote some obviously superficial stuff (that hasn't changed much, unfortunately).
From 2002-2008, I had explained German energy policy to a German audience in German at the country's biggest IT publisher. Some of those articles reached 200,000 readers and were circulated in German ministries and institutes. Since 2008, however, I have mainly written in English, my mother tongue. But with this decade of experience, I was well situated to explain what was happening in Germany in greater depth and against the historic backdrop. So in 2012, this project became the first platform that attempted to explain the Energiewende in English.
There was no Energiewende direkt newsletter in English from the German Economics Ministry at the time, no Clean Energy Wire (CLEW). Agora Energiewende had just gone into business but was not yet producing material in English, and the Agorameter came a few years later. I think Energy-Charts.de by Fraunhofer ISE's Bruno Burger came into existence around that time; it has evolved over the years, partly because of my repeated pesky emails to Bruno asking for this or that extra visualization. To my never-ending surprise, he often made the additions. Hey Bruno, thanks so much!
You're in good hands with those folks if you're looking for overviews of German energy news and data in English. The German government also hosts an invitation-only top-level international energy transition conference. The German Foreign Office has an energy transition exhibition on the road.
But if this website still fills a gap, and I think it does, it's related to political analysis. If a newspaper like Handelsblatt does a hack job on the Energiewende, CLEW preserves its neutrality and merely sums up the article. No one else comments. I had the freedom here to point out omissions. And make the charts above.
I won't produce such analyses any longer. Part of me will miss them, but another part won't – my rebuttals rarely reached the target audience of the article I was correcting, and my readers did not need to hear the same thing over and over.
I would like to thank everyone at the Heinrich Böll Foundation for their support and the content leeway I was always provided, especially Rebecca Bertram (who remembers that the Energiewende is a green peace dividend) and Silvia Weko. In previous years, Alexander Franke and Arne Jungjohann were also very supportive in this project.
Most of all, dear readers, I'd like to thank you. And if you'd like to stay in touch, I'll still be there on Twitter.