Preliminary figures conclusively reveal that renewables produced over 40 percent of Germany's electricity in 2019. Combined with offshore production, wind energy overtook both filthy lignite and hard coal, and has now become the nation's largest energy source. But as fossil gas prices fall and the ruling government's fragile coalition stumbles its way through the Energiewende it created, 2020 will likely prove a make or break year for the clean energy transition. Only the future will reveal if 2019 will actually be remembered as the year renewables really powered past coal in Germany. L. Michael Buchsbaum explains.
---
The early numbers are in
By mid-year it was clear that on and offshore wind and solar were producing record amounts of electricity across the nation. Preliminary estimates published in late December by the Federal Environment Agency (UBA) suggest that renewable generation rose a significant eight percent in 2019 up strongly from 2018's 37.8 percent total.
Significantly, for the first time in history, more electricity was generated from renewable energies than from all hard coal and lignite-fired power plants combined.
According to the figures provided by the Working Group on Renewable Energy Statistics (AGEE-Stat), almost 243 billion kilowatt hours of electricity were generated from renewables throughout 2019.
Wind turbines on land and at sea provided 21 percent of gross electricity generation in Germany, compared to lignite's decline to only 19 percent. Likewise, hard coal produced just 9 percent of total electricity.
Overall, wind turbines on land and at sea generated around 126 billion kilowatt hours of electricity (kWh) of electricity throughout the year, roughly 15 percent more than in 2018 (110 billion kWh). Onshore wind power increased some 13 percent (from 90 billion kWh to almost 102 billion kWh) and offshore wind power production skyrocketed up by over 26 percent (to 25 billion kWh).
Additionally, electricity generation from photovoltaic (PV) systems also increased slightly compared to the previous year. Almost 47 billion kWh of electricity were generated, about two percent more than in the previous year and new photovoltaic output rose to around 3,600 megawatts (MW), significantly exceeding the previous year's figure (2,888 MW).
Rounding out other renewables, hydropower increased to nearly 19 billion kWh in 2019, four percent above the level of drought-plagued 2018. Initial data from the UBA suggests that biomass and biogenic waste generation fell slightly to 50 billion kWh.
In their early analysis in mid-December, the Centre for Solar Energy and Hydrogen Research Baden-Württemberg (ZSW) and the German Association of Energy and Water Management (BDEW) pushed this total a little higher to 43 percent.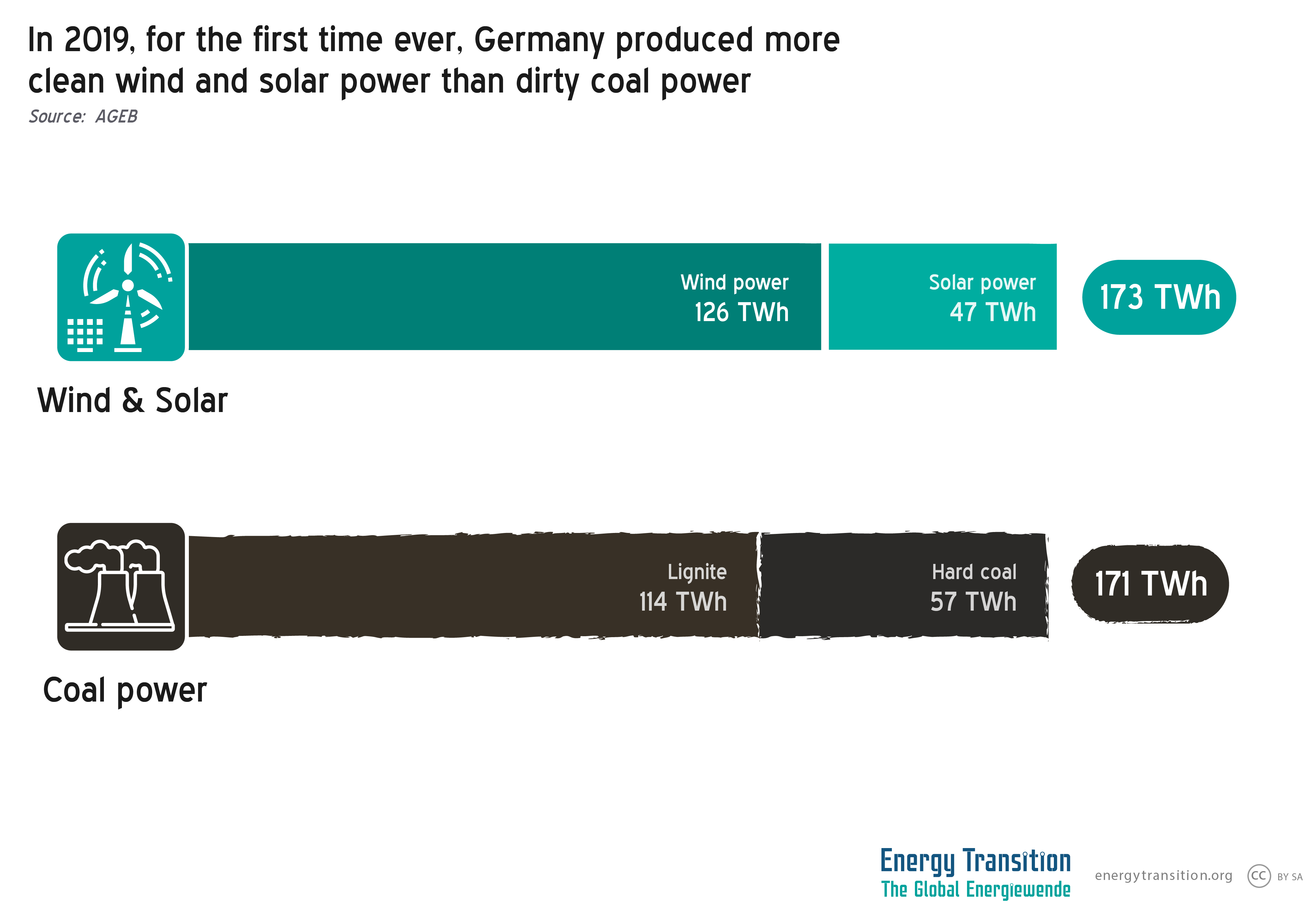 Coal squeezed by clean renewables, cheap fossil gas and LNG
Though coal's future in Germany remains clouded by political haggling and furious lobbying, the data unequivocally reveals that the dirtiest form of electricity production fell sharply in 2019. According to calculations by the AGEE-Stat, the total consumption of lignite and hard coal in Germany decreased by one fifth each.
But the significant decline in coal-fired power generation was not just the result of particularly strong breezes. "2019 was a crazy year in terms of electricity prices. We had historically low [fossil] gas prices and high CO2 certificate prices as well as [high hard] coal prices on the spot market," said Fabian Huneke from the energy consulting company Energy Brainpool in an interview with German news-outlet Handelsblatt.
As cheap fossil gas, lamentably much of it imported fracked liquid natural gas LNG from the U.S., floods European markets, this has resulted in gas power plants being able to produce electricity much more cheaply than previously—thus displacing coal from the market.
This is due to Germany's "merit order based" energy production regulations that mandate only the lowest fuel-priced energies are switched on first. As wind and solar "fuels" are free, under this system, they receive preference. Historically fossil gas has generally been much more expensive than coal, but this is no longer the case, especially when factoring in new CO2 emissions certificates.
"Since electricity generation from gas has significantly less CO2 emissions than generation from lignite, fewer CO2 certificates are required," explained Professor Bruno Burger from the Fraunhofer Institute for Solar Energy Systems in the Handelsblatt piece. The costs for the gas and the certificates were at times "below the pure CO2 certificate costs of the lignite-fired power plant."
Under German and EU law, power plants and factories require a certificate for every ton of climate-damaging gases they belch into the atmosphere. "The future of coal electricity depends on the price of electricity on the exchange and the price of CO2. As long as both are at the same level, it looks bad for the brown coal, but good for the environment," said Burger.
According to the energy conglomerate RWE, which saw a massive 30% or more drop in electricity production from lignite through the first nine months of 2019, mass protests leading to the prevention of the destruction of the Hambach Forest as well as the shifting of older lignite plant units into reserve status also resulted in coal's decline.
Wind expansion collapse
Though wind power became Germany's single most important power source in 2019 as it continues to take a central role in the nation's clean energy transition, continued progress in this sector, particularly onshore, is anything but certain.
Record numbers in 2019 "should not hide the current crisis in the expansion of onshore wind energy which will strongly inhibit the future growth of wind power," said UBA President Maria Krautzberger.
Indeed preliminary figures show that onshore wind energy's expansion dropped to its lowest level in about 20 years. Up to and including November 2019, according to the UBA, only about 160 new wind turbines had been erected throughout Germany. Including repowering projects, i.e. the dismantling of old systems in favor of more powerful wind turbines, there was only a net increase of approximately 700 MW in 2019. This corresponds to a marginal increase in the total installed capacity by around one percent — from 52.6 Gigawatts (GW) per year 2018 to 53.3 GW in 2019. By comparison, on average around 1,100 turbines with a capacity of over 2,500 MW have been annually installed throughout much of the 21st Century. (NOTE: wind's challenges for 2020 will be covered more extensively in another upcoming blog).
However, unless onshore wind's expansion resumes and efforts to expand photovoltaics make major strides, the deceleration of the electrical power system's transformation will endanger the overall Energiewende, reminded the ZSW in their end-of-year briefing. If that happens, the target of a 65 percent share of renewables by 2030 will become another distant prospect, one ever more likely to be missed. Worse, the longer renewables are held back, the more fossil gas will rush into coal's stubbornly retreating generation void—threatening the progress of the necessary clean energy build out and only enriching those who profit from the pollution.