Ramping – when power plants adjust their output according to market needs – is crucial in an energy system that includes renewables. So can nuclear reactors ramp enough to accommodate significant shares of wind and solar? Craig Morris takes a look.
---
At the end of January, I published a discussion paper for the IASS (Institute for Advanced Sustainability Studies) investigating whether the existing reactors are technically able to adjust to wind and solar. A lot has happened since then.
One of the main criticisms that climate hawks outside Germany have of the Energiewende is that Germany is closing nuclear before coal. They assume that nuclear reactors can ramp considerably more than they have historically; the plants simply didn't need to do so. Nuclear has the lowest marginal costs: the fuel is cheap, but the plants are expensive – so once you have built them, you run them as much as possible.
The economic argument is correct. But what about the assumption that existing reactors have a technical ability they have never demonstrated?
1) Tweetstorm: My new discussion paper "Can reactors react" is out on possible mix of existing #nuclear with fluctuating #wind and #solar https://t.co/jsLyh7iZj2 so let's discuss! pic.twitter.com/BUodlTZUwF

— Craig Morris (@PPchef) March 5, 2018
Last summer, I summed up my preliminary findings in this blog. The technical capability of reactors to ramp is clearly shown by individual units, but never as a fleet. The reactors seem to take turns ramping, as though the number of times they change output should be minimized.
In my discussion paper (PDF), I tried to find out whether, for instance, wear and tear is the reason. The answer is disappointing: we don't know. As one researcher wrote in 2010, "no systematic study has been made on this topic." I could not find such a study since 2010 either.
We do know that damage from ramping has only been reported for one reactor worldwide: Germany's Brokdorf. Below is the quite limited ramping at that reactor in 2016 leading up to the damage.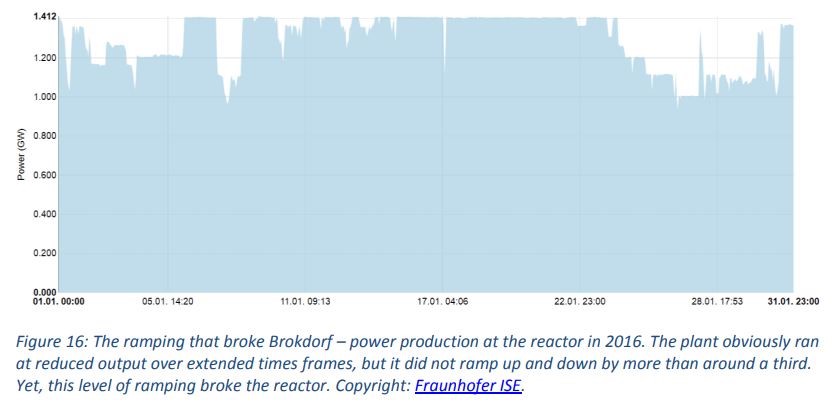 For a comparison, here is the ramping that the entire German power plant fleet – nuclear, coal, and gas turbines – had to perform in 2017.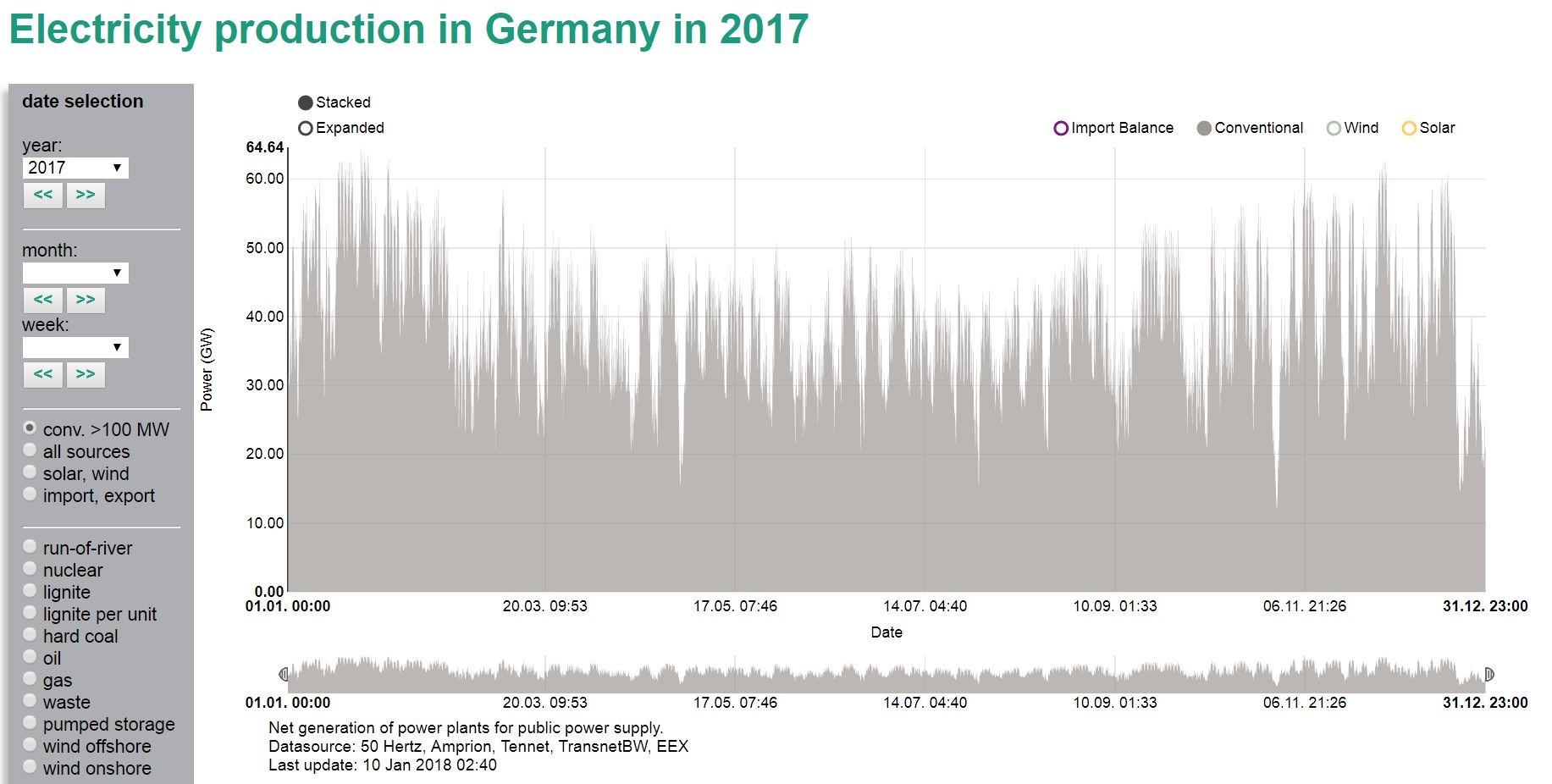 Fossil-fired power plants did most of the ramping, as we see once we take nuclear out – the ramping looks even greater below. Note that this ramping is required for a mere approximately 20% wind and solar.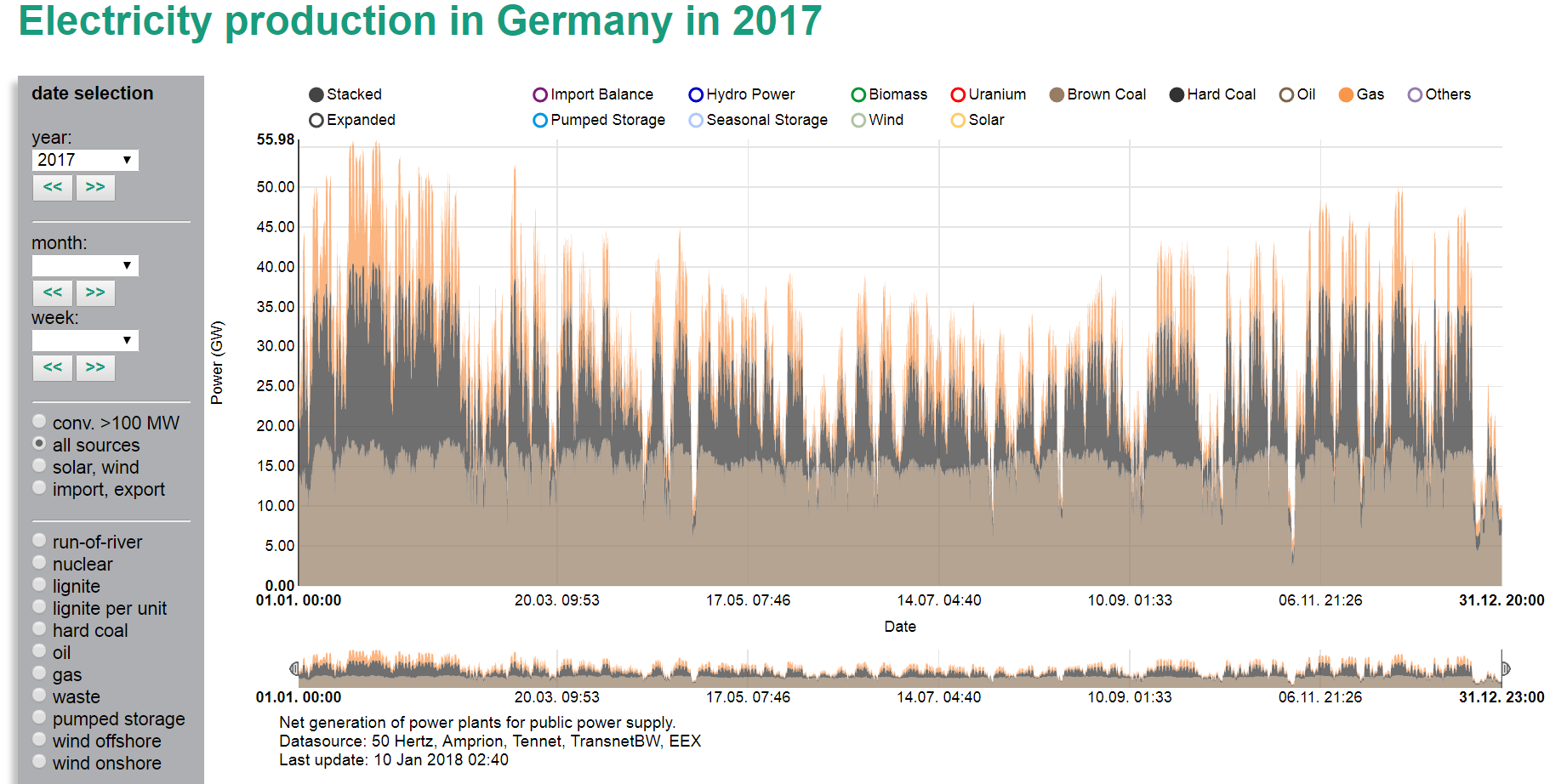 The lack of past ramping does not, of course, demonstrate that reactors are technically incapable of more ramping, especially since there is a plausible economic reason for the lack of historic nuclear ramping. So what is the technical capability? Here, statements are contradictory, even among proponents of nuclear. For instance, a presentation given jointly by German utilities RWE and Eon in 2011 shows nuclear ramping faster than coal plants and combined-cycle gas turbines (the truly fast ones, open-cycle gas turbines, are left out in the chart below).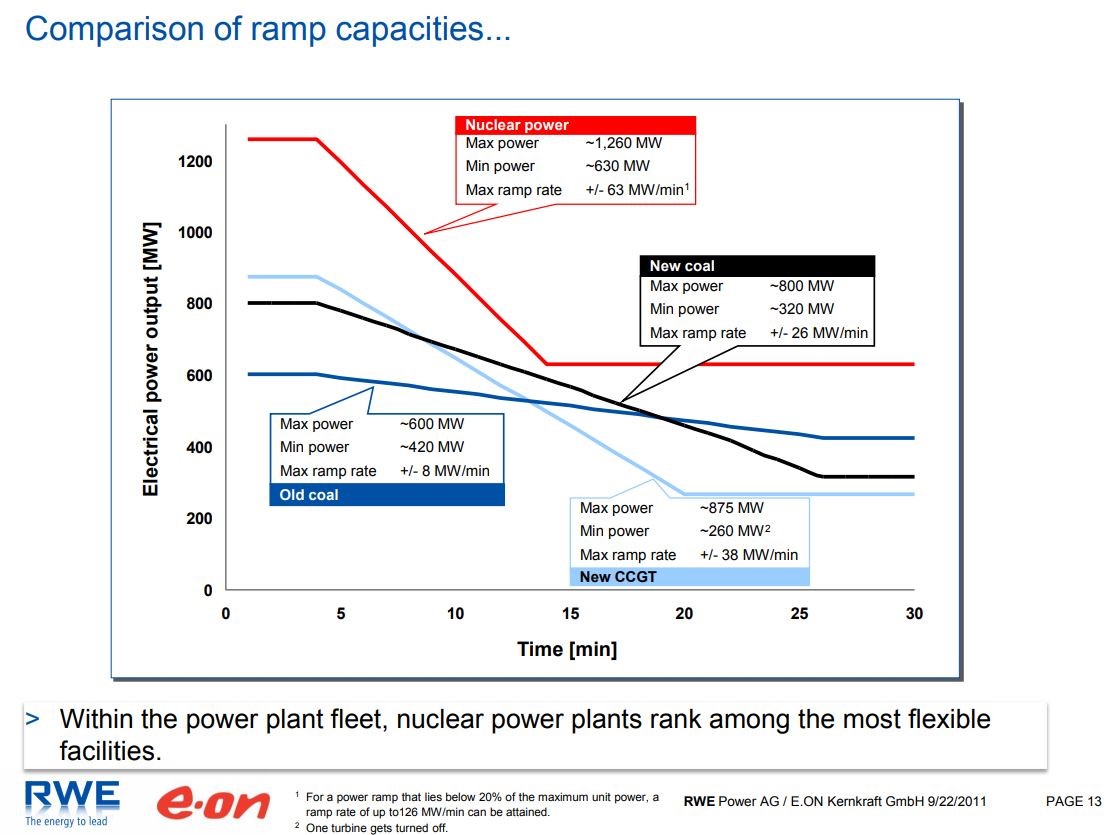 Here, the reactors ramp down by around 50%. But then we find the head of Germany's (pro-nuclear) Atomic Forum stating (video in German) in the same year: "Major changes [in output] would cause wear and tear. The area below 60% is not desirable… We are not talking about economics here, though that does play a role… It's a technical issue."
Other studies show nuclear ramping less than coal and gas.

Individual French reactors take turns to drop down to 25%. Are French reactors more flexible? Possibly, but their flexibility also seems quite limited. Stephane Feutry, head advisor for nuclear production at Electricité de France, told Nucleonics Week in 2016 (vol. 57, no. 24, subscription only) that the French fleet had already reached its maximum flexibility, and no more than around two thirds of the country's 58 reactors can operate in load-following mode (meaning ramping) at a given time. The problem is that reactors should not ramp for the first and last sixth of their fuel cycle, so each reactor is inflexible a third of the time.
In January, Feutry's colleague Dominique Miniere told Bloomberg that the French fleet could change output by 21 GW in less than 30 minutes. Maximum output hovers in the upper 50s (installed capacity is 63 GW), so that reduction is equivalent to a third. French nuclear critic Thibault Laconde took a look at the data (in French) and found that the maximum demonstrated ramping within an hour since 2011 was 5.35 GW – a quarter as much electricity in twice as much time. Feutry later told Laconde that there had been a misunderstanding: France's nuclear fleet can react in 30 minutes or by 21 GW, but not both.
I recently interviewed an EDF's senior staff about that, he told me there was a misunderstanding, according to what seems to be the new EDF's official position they can ramp up to 21GW and they can react in 30 minutes but not both at the same time.https://t.co/Coul0Bx6O5

— Thibault Laconde (@EnergieDevlpmt) March 6, 2018
Another thing is strange: if the French fleet needs to reduce output by, say, five GW (around 10%), the smallest possible number of reactors are clipped as much as possible down to around 25% of output until that reduction is reached. The rest of the fleet continues to run so unchanged that their rated output can be seen from their current output. This behavior is strange because a fleet of fossil-fired plants would more evenly reduce output across the entire fleet.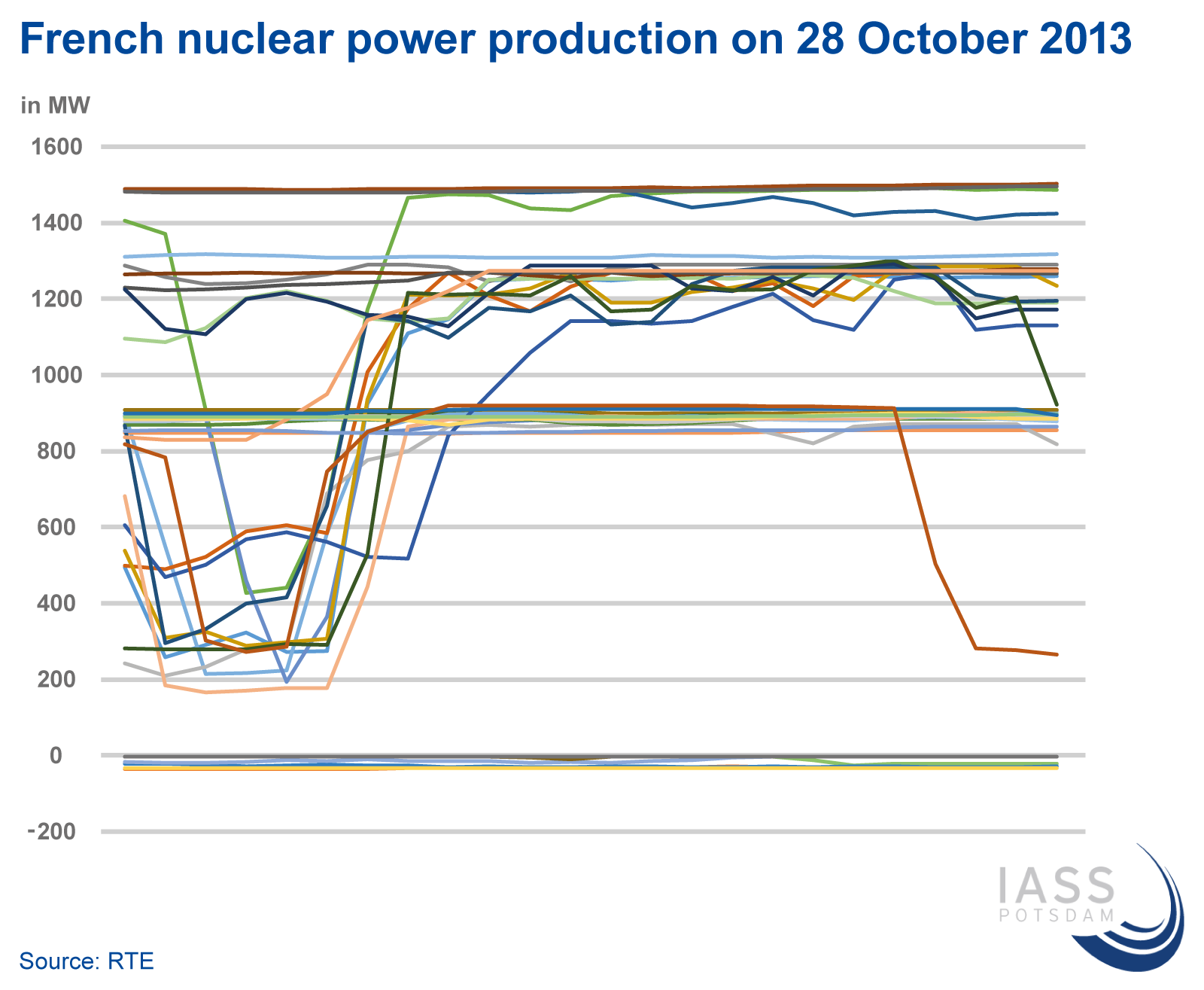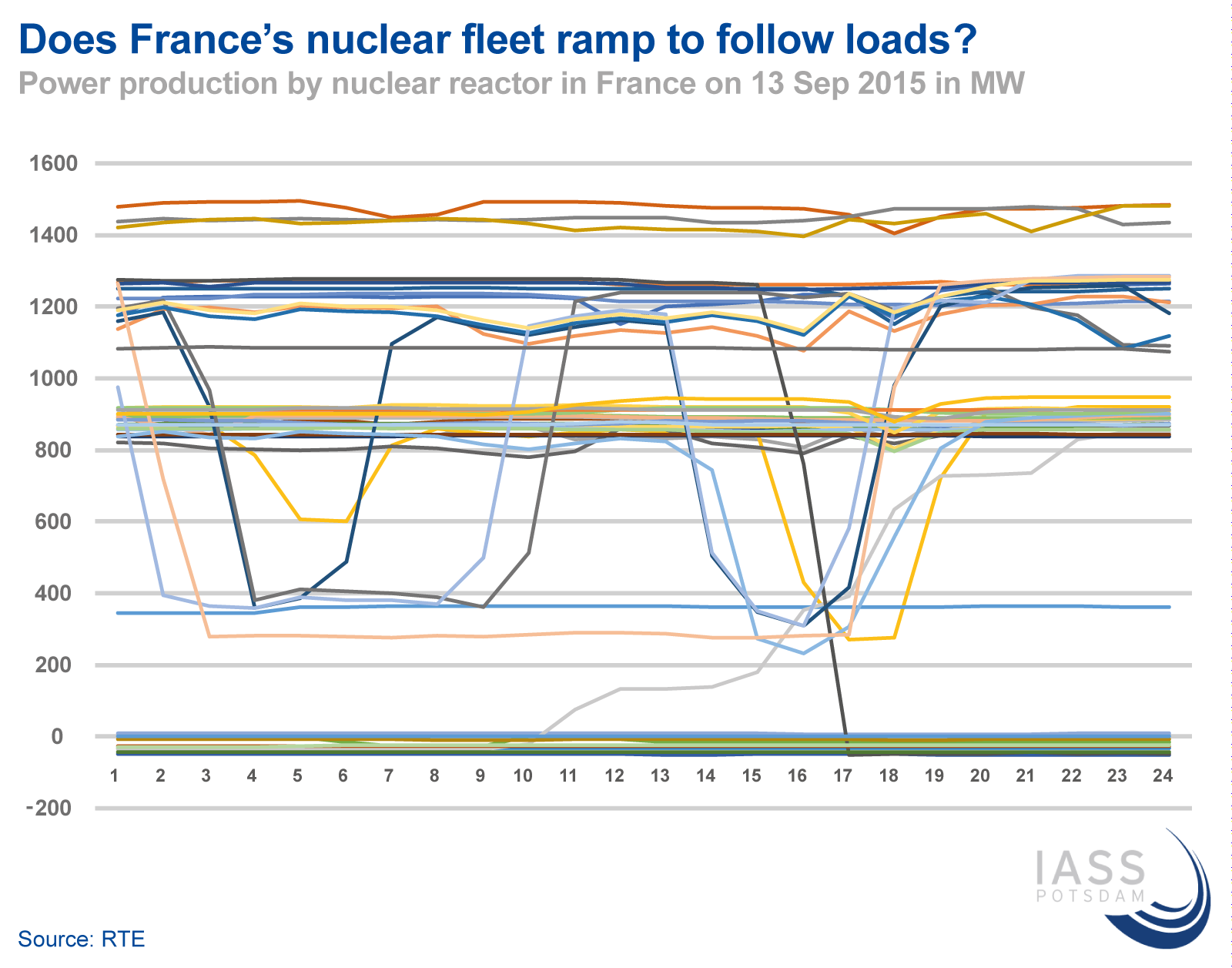 My discussion paper – indeed, the entire discussion – thus raises more questions than it answers. An absence of historic evidence does not prove inability; on the other hand, it is reasonable to be doubtful until proof has been given.
What we do know that a reduction of even a third of the French fleet's entire output twice a day is not what is needed. French reactors can only go back up quickly if they just stay down for a few hours. For solar, that works well; for wind, it doesn't – wind can blow strongly for days.
We also know that a reduction in nuclear by a mere third will block the integration of wind and solar power. To accommodate 20% wind and solar, fossil plants in Germany already ramp by much more.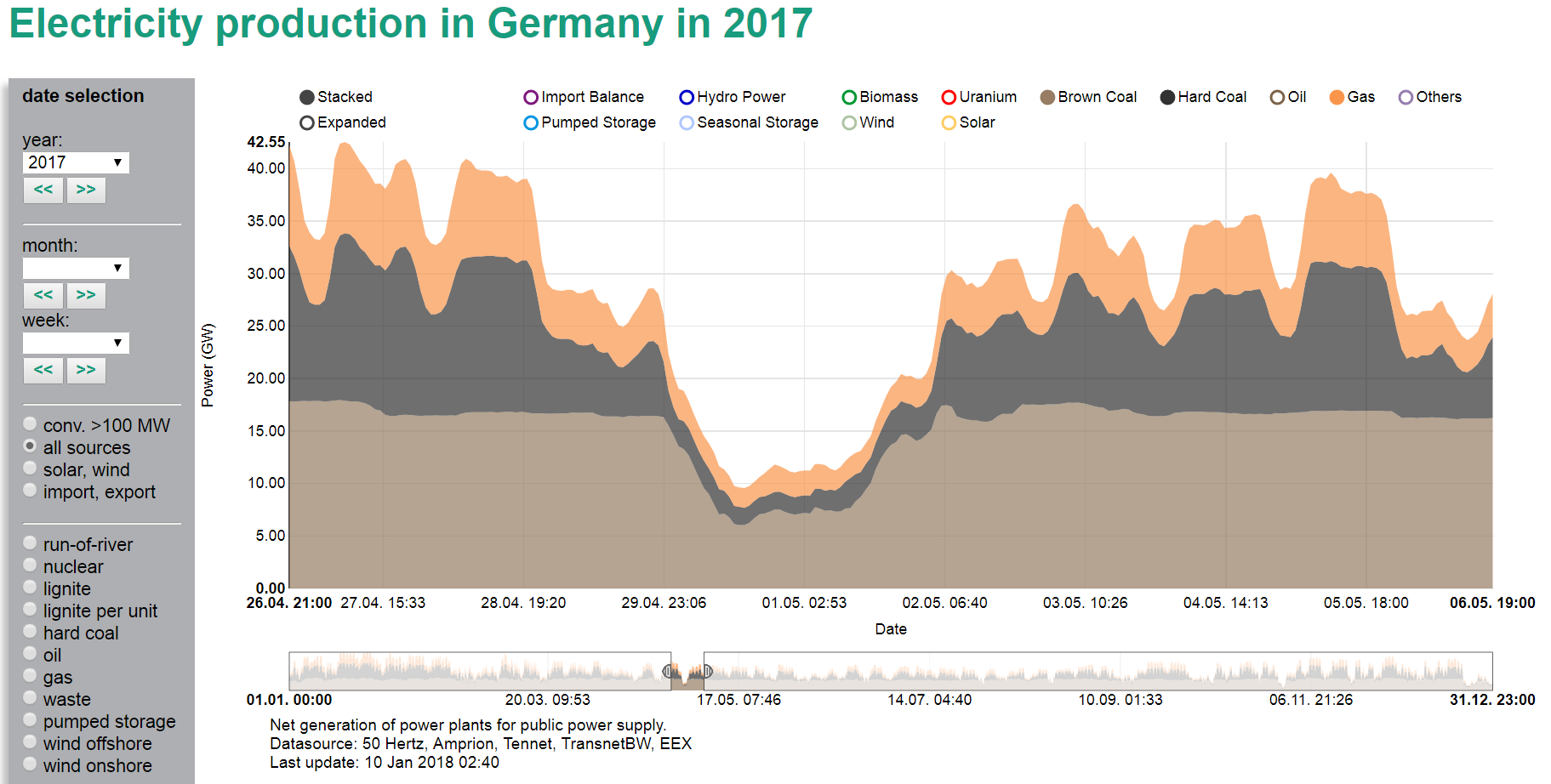 Below, US researcher Jesse Jenkins visualizes a future power supply with roughly half wind and solar and a third nuclear – but the nuclear fleet ramps by 50%, sometimes twice a day. Jenkins assumption pushes the envelope of what EDF says is technically possible… and is far more than what has been attempted up to now.
We can do even better though if nuclear is somewhat flexible. Now let's assume nuclear can ramp down to 50% of its maximum output. Much less flexible than a gas plant, but helpful still. Overgeneration is down to a minor 0.7% of demand. Wind+solar up to 49%, nuclear down to 31%. pic.twitter.com/u8MizpVwJq

— JesseJenkins (@JesseJenkins) March 5, 2018
In the end, how you come down on this issue is a matter of faith: do you believe that an entire reactor fleet can ramp at each reactor's technical limit regularly two thirds of the time (outside of times close to refueling) when, after four decades, no fleet has ever done so, including at times of negative power prices?
We need a lot more research and open discussion about the particular behavior of nuclear reactors ramping – and possible wear and tear on the facilities. My discussion paper is an invitation: let's discuss. Based on what I found, I contend that existing nuclear is incompatible with significant shares of wind and solar. You either stick with nuclear, or you build wind and solar – and then nuclear has to go. A mix will not work; you have to choose.