The British government seems willing to pay high prices not only for new nuclear, but also for renewables. Given the country's amazing wind conditions, it does indeed seem that the British are overpaying for wind power in particular. Craig Morris thinks he knows why.
---
Remember our chart on the proposed strike price for power from a new nuclear reactor at Hinkley?
One main point of criticism was that we compared the price of British nuclear to German solar + wind. "Why didn't you compare Hinkley to the higher rates paid for solar and wind in the UK?" several readers asked.
The answer was quite simple: German feed-in tariffs actually reflect the cost of solar and onshore wind (but not offshore, which I will come back to). We know roughly what the return is on PV in Germany (it's very small right now), and we know what the general return has been on wind power as well. In a recent post, I also explained the difference that capacity factors make. The same wind turbine (or solar array) under much more favorable conditions will produce more electricity. The fuel (the wind or the sunlight) is free, so the electricity gets cheaper as the conditions (capacity factors) improve.
For the sake of brevity, let's just focus on wind power here. The chart below gives us an idea of how much better wind conditions are in the UK relative to Germany.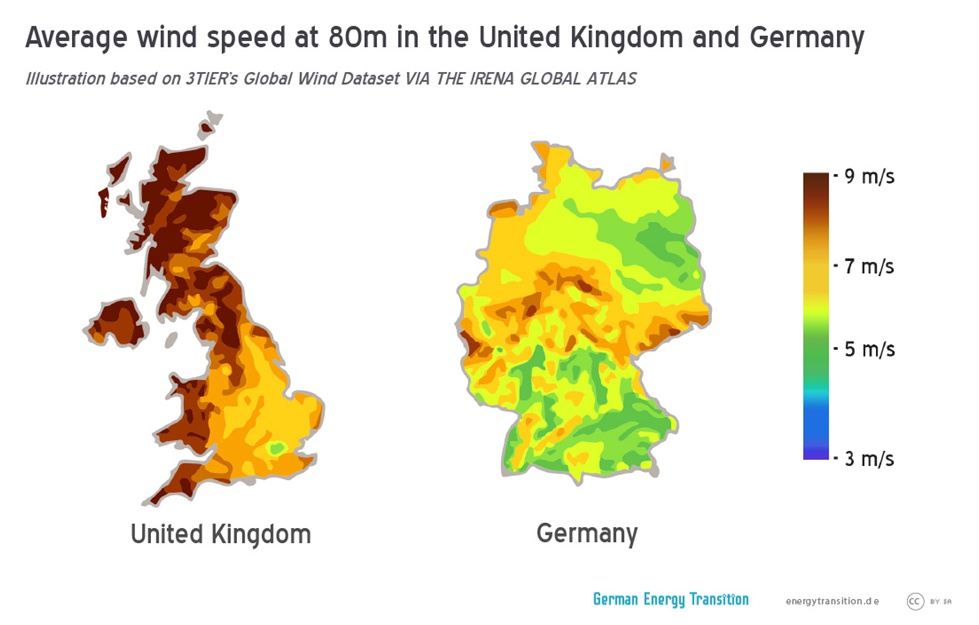 Anyone who develops wind farms will point out that the resolution here is inadequate. In particular, it looks like the best German wind conditions are in the middle of the country, whereas they are actually along the northwestern coast – but no matter, we are not trying to site wind farms based on this data, but merely understand the potential for low costs.
The chart suggests that large parts of the UK have wind speeds of 9 m/s on average, whereas large parts of Germany are closer to 5 m/s. A layperson might conclude that there is roughly twice as much wind in the UK as in Germany, but the calculation is more complex. The Iowa Energy Center has a nice presentation explaining how the energy in wind is a function of the cube – or, as wind power guru Paul Gipe puts it, double the wind velocity, and power increases eight times.
The calculation is even messier in practice because, for instance, wind turbines may have to turn their blades out of the wind during storms, thereby producing no power, etc. As the Iowa Energy Center puts it, "the actual power increase in a wind turbine is more linear than is predicted by the equation." But overall, we can assume that the best UK sites onshore produce at least twice as much wind power per turbine as in Germany (again, see my discussion of a global comparison from IRENA). More importantly, on average the UK's wind turbine fleet has a capacity factor of 28 percent, easily 50% more productive than Germany's.
We would therefore expect wind power to be substantially cheaper than in Germany. It isn't. German onshore wind farms receive 8.9 cents per kilowatt-hour for the first five years, and that number drops to 4.9 cents at some point after that. The purpose is to avoid windfall profits; turbines in less windy areas need the higher rates longer than those in fantastic sites.
The actual cost of wind power in Germany is thus best expressed as a range. Likewise, it is not easy to give an average price for onshore wind in the UK, largely because the prices are adjusted for inflation. Given those caveats, this is what we came up with: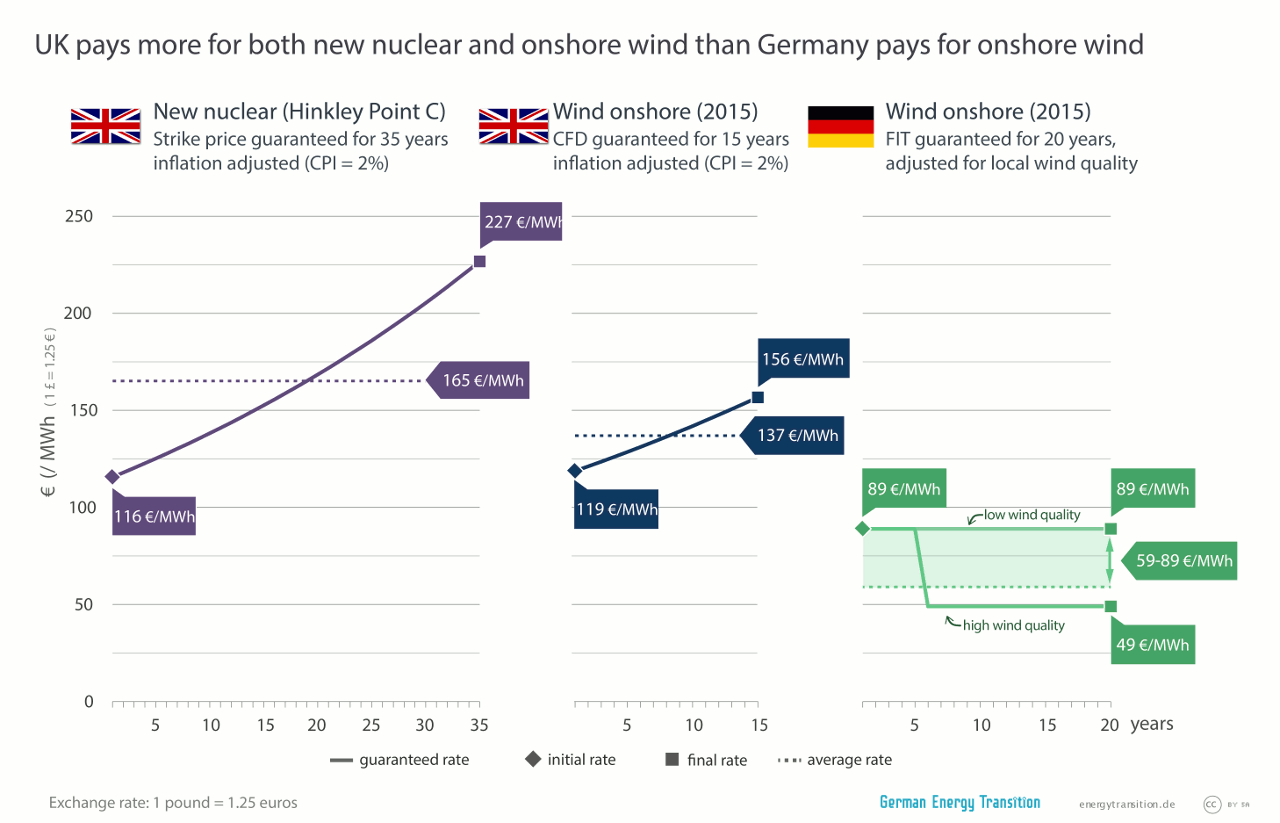 The data on which the chart is based are already a few months old, and the exchange rate between the pound and the euro has worsened from 1.25 to 1.39 euros (in mid-April). This difference would make the prices in the UK seem even higher – but let's stick with what we have. The chart is already quite busy. (Also, keep in mind that €116 per MWh = 11.6 cents per kWh).
The UK prices were taken from DECC (PDF). For this year, 95 pounds (119 euros in our chart) is paid for wind power onshore. "CPI" indicates the Consumer Price Index, meaning that these rates actually go up over time relative to inflation (which German feed-in tariffs do not). Note as well that the time frames are different: the price guarantees will hold for 35 years for nuclear, compared to only 15 years for onshore wind in the UK. In contrast, German feed-in tariffs apply for 20 years.
Regardless of the details, the main takeaway is hopefully clear. You could slide that green section representing the range of onshore wind power prices in Germany under everything in the UK without any overlapping – and that was even before the weak euro made UK prices even higher.
Which brings us back to the question in the title of this article: how does the UK make renewables so expensive? British energy expert Dave Toke put it well in December: "in Germany the independent renewables sector runs the RE industry. There the political interest group pressure is almost 180 per cent different to the UK. In this country it is the Big Six, give or take a couple of other multinational energy corporations, who will influence contractual terms." Big firms do not like small returns. Furthermore, by making renewables seem more expensive, they reduce public interest in these technologies, which they do not want to implement that quickly anyway (wind power conflicts with conventional assets).
The situation is even worse when it comes to offshore wind (not shown in any of our charts), where profit margins are quite excessive in Germany as well (the German offshore sector is entirely big business). Over at Energy Post, Mike Parr studied the offshore data from Denmark, where he found returns exceeding 20 percent. Nearly two years after I called for German offshore wind rates to be reduced, Parr now says the same can be done in Denmark and the UK.
In a nutshell, the UK overpays wind power in particular because big utilities with big expectations for returns run the show, whereas new players and communities have largely driven the German wind sector up to now – and they were more interested in getting the transition moving than in increasing their personal profits. As Toke argues, British policy mechanisms for wind power focus on incentivizing investments from corporations, not communities. One conclusion would be that shrinking the role of those with big profit expectations will help keep the energy transition affordable.
Craig Morris (@PPchef) is the lead author of German Energy Transition. He directs Petite Planète and writes every workday for Renewables International. Below, we also provide the new charts comparing German and UK onshore wind prices in a single info graphic. All graphics were created with input from Thomas Gerke (@Zoido4Design).