Unofficial energy sector estimates for Germany for 2014 have rolled in over the past few weeks. Craig Morris provides an overview.
---
In 2014, German coal power production fell considerably year over year (see the table below) – and to the lowest level since 2011.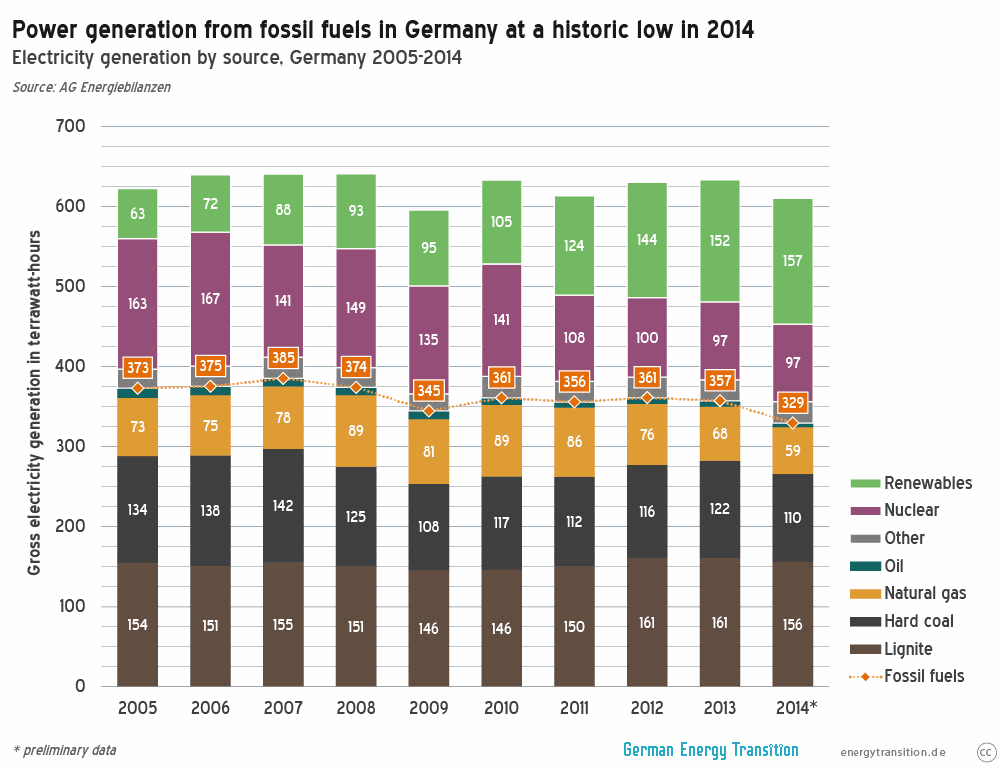 One of the main headlines in the German press based on these figures is that renewables now represent the biggest single share of power supply, having nudged just ahead of lignite in second place (though some think the comparison is cheating because the two types of coal, hard coal and lignite, are listed separately, while renewables are put together). In 2014, renewables made up just under 26 percent of German power supply, up from 23.4 percent in 2013. At a continuous growth rate of two percentage points per year starting from 26 percent in 2014, Germany would reach its target of 80 percent renewable power in 2041 – nine years ahead of schedule.
Note also the dramatic decrease in power consumption at around minus four percent, with net power exports rising slightly to set yet another record for the third year in a row. The official explanation is that milder weather reduced power consumption, along with an economic decline in the chemicals sector. The recent economic sanctions against Russia have set back German industry, but the economy as a whole remains relatively strong, with unemployment still lingering at an all-time low since reunification. Quite possibly, a growing number of households are also consuming their own renewable electricity directly, and this consumption & production is not reflected in the figures.
When we add in the reduction in electricity from natural gas and oil, power from fossil fuels fell to a level not seen in the past 35 years (see graphic below). Gas consumption was down even more dramatically – 14 percent – due to milder weather (roughly half of German homes have gas-fired heating systems). As a result, Germany's carbon emissions are expected to have fallen by around 4-5 % in 2014 alone.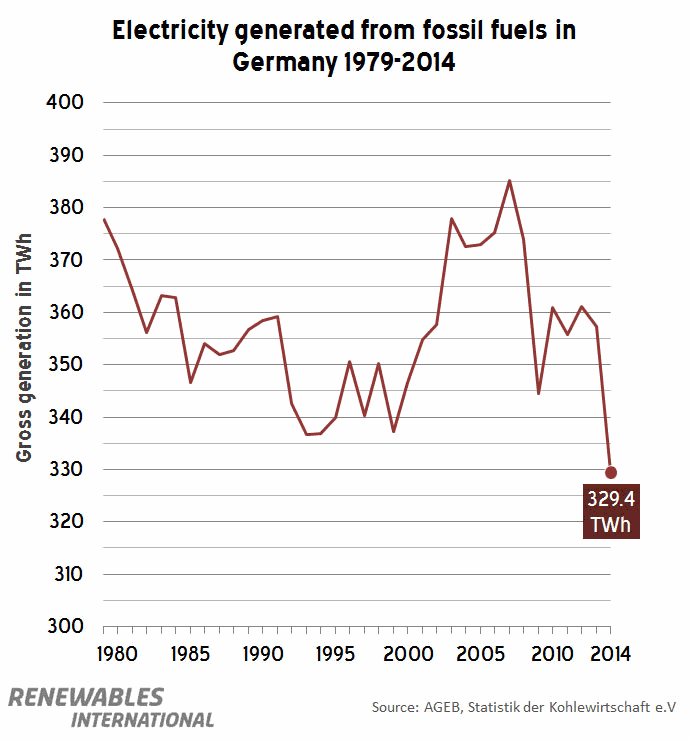 A view of total energy consumption (not just electricity) reveals a different picture, however.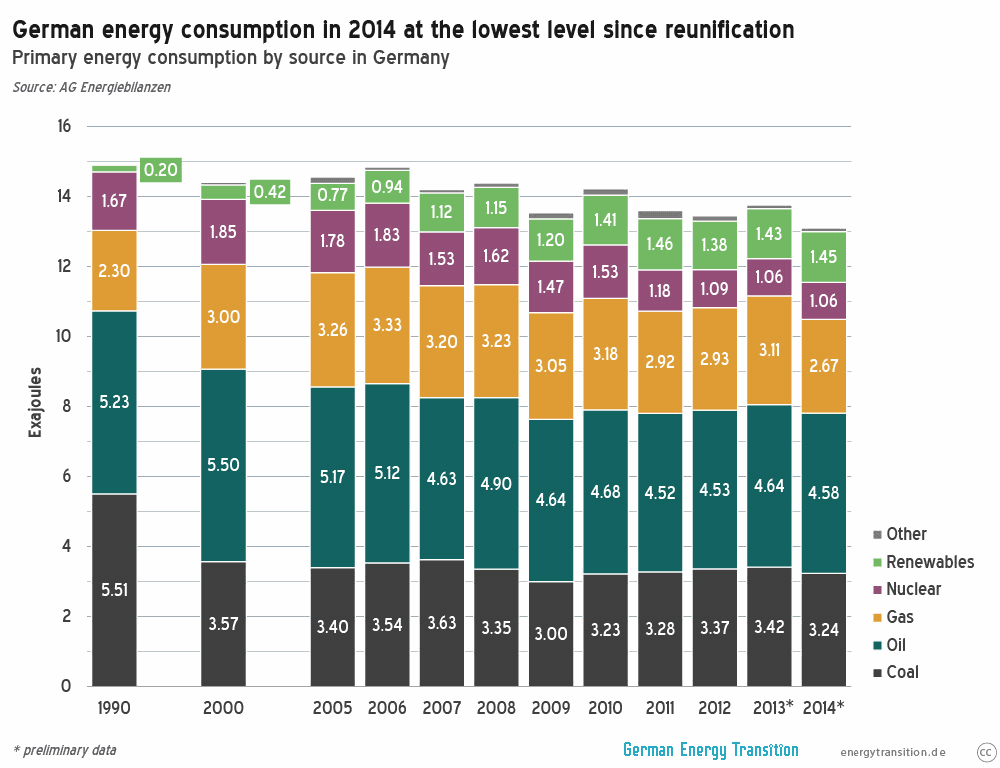 Total energy consumption was also down – in fact, to the lowest level since reunification at the beginning of the 1990s. As a result, the share of nuclear power in energy consumption actually grew although slightly less nuclear power was generated. Likewise, consumption of petroleum in all energy sectors actually fell, but its share grew nonetheless.
Most of all, we clearly see that Germany is only making progress with renewables within the power sector, where it is clearly on target. In contrast, the share of renewables in total energy supply rose by only 0.7 percent last year. Starting at 11.1 percent in 2014, 0.7 percent growth means that Germany would not reach its target of 60 percent renewable energy by 2050, but rather after 2080. Clearly, we need to stop talking about just coal and focus more on oil, or start to more ambitiously include the transportation and heat sectors in the Energiewende.
Craig Morris (@PPchef) is the lead author of German Energy Transition. He directs Petite Planète and writes every workday for Renewables International.