Today, Craig Morris returns to the Monitoring Report published in December by Germany's Network Agency to discuss what the organization expects over the next five years.
---
As we saw in the first installment of this series, Germany still has more than sufficient dispatchable generation capacity to meet its peak demand for power. There have, however, been concerns about the country installing a lot of new coal plants. Let's take a look at what Germany's Network Agency says about the matter in its Monitoring Report 2013.
Over the six years from 2013-2018, there is expected to be an increase of 957 MW in conventional power generation capacity. There is a clear trend downwards, with 2014 being the last year in which capacity additions are positive; starting in 2015, Germany will begin taking down its conventional plants. And as I previously explained, plants going online in 2013-14 cannot possibly be a reaction to Fukushima in 2011 because the entire construction phase (including planning) takes around six years for coal plants on average, so these coal plants were begun in 2007-08.
But here's what the chart does not tell you – the companies themselves would like to shut down more plants even faster. The Network Agency has to review these applications and approve them before the firms can shut down a power plant, however. The Monitoring Report should therefore be read as a conservative statement; if it included the shutdowns a lot of utilities would like, it would be understood as a signal to these firms that their applications will be approved.
The reason why these firms want to close down their own plants is not hard to find. A recent Bloomberg report points out that wholesale prices continue to fall in Germany for the fourth year in a row, and having generation capacity (supply) outstrip power consumption (demand) even further will only make things worse. The increase in renewable electricity will mean that more megawatts (MW) of conventional capacity will then be asked to produce fewer megawatt-hours (MWh) of electricity. In other words, more MW of coal capacity will not necessarily translate into more MWh of coal power.
The next chart shows why the Network Agency is nonetheless hesitant to allow all of these plants to be closed. Essentially, the chart is the same as the previous one, but only concerns power plants in southern Germany (roughly, south of Frankfurt).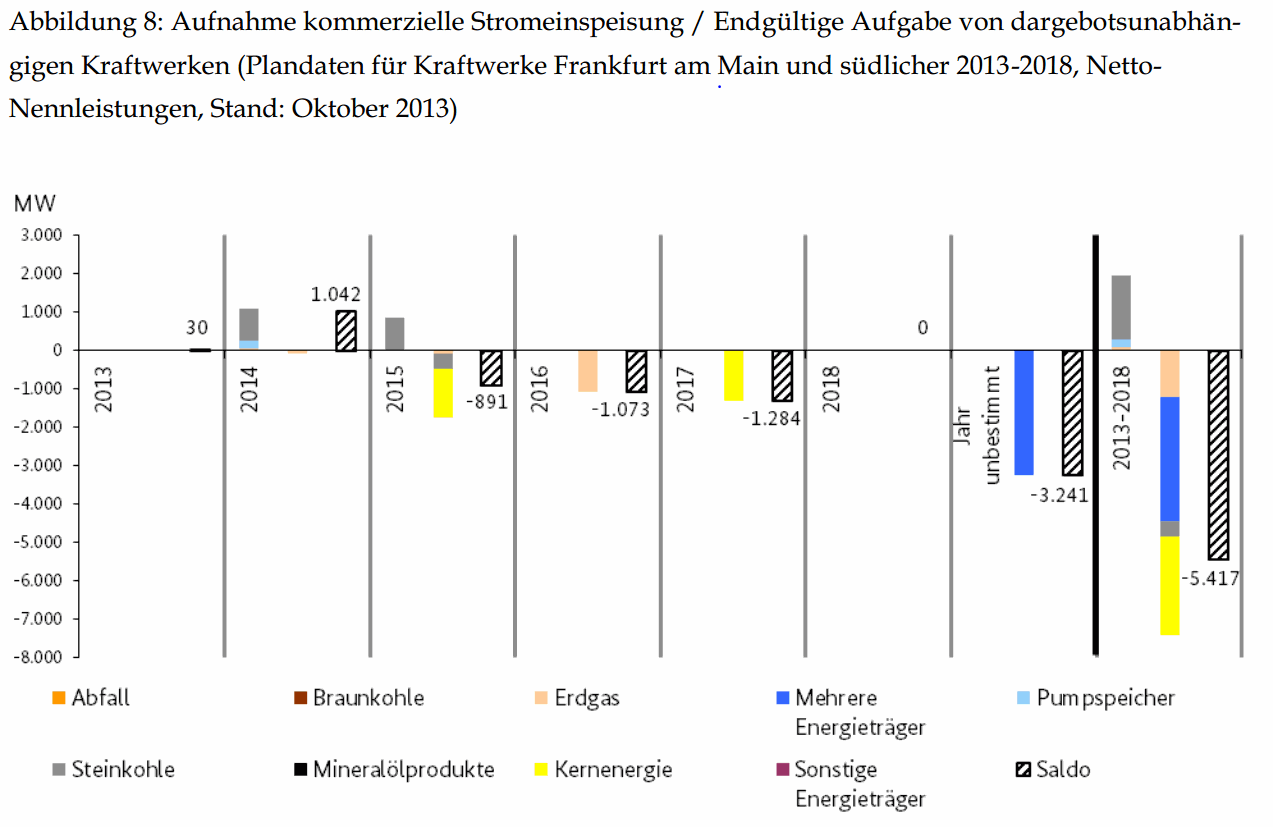 Clearly, most of the plans to close down plants are in the south, which is solar-heavy but wind-weak. There needs to be a balance of power supply and demand at various grid nodes, lest power lines overload in, say, the north when power demand is high in the industry centers of the south. In my next post, we see that most of the renewable power curtailed in 2012 was wind power, though the level is still quite low.
Craig Morris (@PPchef) is the lead author of German Energy Transition. He directs Petite Planète and writes every workday for Renewables International.