By 2020, Germany aims to get 35% of its power demand from renewables, but the share was much higher in the first half of this year. But there's also some bad news. Craig Morris explains.
---
At the beginning of July, Fraunhofer ISE's website showed that Germany had 37.6% renewable power in the first half of the year – far above the goal of 35%.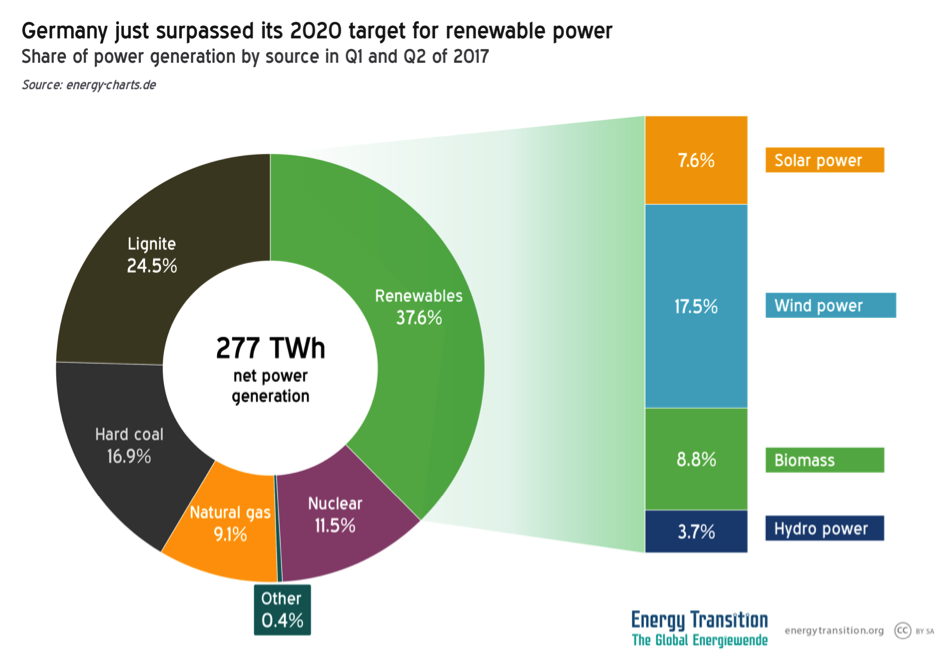 The share of renewables is even larger when we consider power demand, i.e. take out net power exports; the chart above shows generation, not just demand – and Germany became Europe's leading power exporter last year. To explain this, I'd like to introduce you to a new platform currently only online in German: Smard. Like the Agorameter, it shows net commercial power trading. Germany exported 29.8 TWh net, equivalent to 11 percent of total generation, which we can subtract from the total above for all power generation including exports. Renewables then made up 42% of power demand in Germany.
These figures are still preliminary, but any adjustments are unlikely to be great. The biggest variable is the weather. The first half of 2017 was both fairly sunny and windy. But it will be hard to drag the share of renewables back down below 35%.
Solar continues to creep upwards, but the main growth has come from wind power. In the first half of 2016, solar and wind collectively generated 58 TWh, but that figure rose to 68 TWh in the first two quarters of this year. Wind power made up most of that 10 TWh increase at 7.5 TWh.
One reason has been the recent record expansion of wind farms. In the past few years, wind projects have rushed to finish before auctions take effect. Under auctions, the government will be able to decide which projects can be built; effectively, the government can tell developers they cannot build simply by keeping the volume auctioned at a modest level. (The first round of onshore wind auctions was more than 1.5-fold oversubscribed, meaning that there were 1.5 losers for every winner.) Under feed-in tariffs, the government had no way of stopping projects based on volume. The result was more than 4 GW of capacity additions annually for the past three years after a decade of closer to 2 GW each year.
In contrast, large PV arrays (the size limit is now 750 kW) have had to take part in auctions for the past two years. Since then, new builds have failed to meet the government's minimum target of 1.5 GW annually.
So what will the share be by 2020? It might not be much higher at all. A lot of wind turbines will leave the feed-in tariff scheme in the next few years after 20 years of eligibility. Those wind farms could theoretically still sell power at the wholesale rate, but that price might be lower than operating costs, especially if any maintenance is needed for the old turbines. Many machines will thus be dismantled.
In addition to this reduction, which will be significant for the first time (not much had been built more than 20 years ago), the auctions also allow projects several years to develop: from 30 to 54 months. The volume awarded this year – already relatively small at 2.8 GW (source in German) – is thus unlikely to be built in 2018 or 2019. Most projects from the first round have until 2022.
So whatever share of renewables Germany has for 2017 as a whole will probably be close to the percentage it will have in 2020. The good news is that the target for that year will probably be reached. The bad news is that solar continues to be developed at a meagre pace, and now the wind sector is bracing for an extended dry spell.
Craig Morris (@PPchef) is the lead author of Global Energy Transition. He is co-author of Energy Democracy, the first history of Germany's Energiewende, and is currently Senior Fellow at the IASS.