Over the long weekend of April 30 to May 1 (International Labor Day), low power demand joined forces with strong wind and solar power production. As a result, coal power in Germany hit a record low. But by focusing on coal, we might be missing the big story: the country's nuclear fleet may have ramped more than any in history.
---
On April 30, a Sunday, German coal power production fell to 7.8 GW. It remained below 10 GW until 11 am on May 1. Wind and solar combined at noon on April to cover 46.5 GW of a mere 71.5 GW of demand. Add on nearly 9 GW of hydropower and biomass, and there just wasn't much room for conventional power.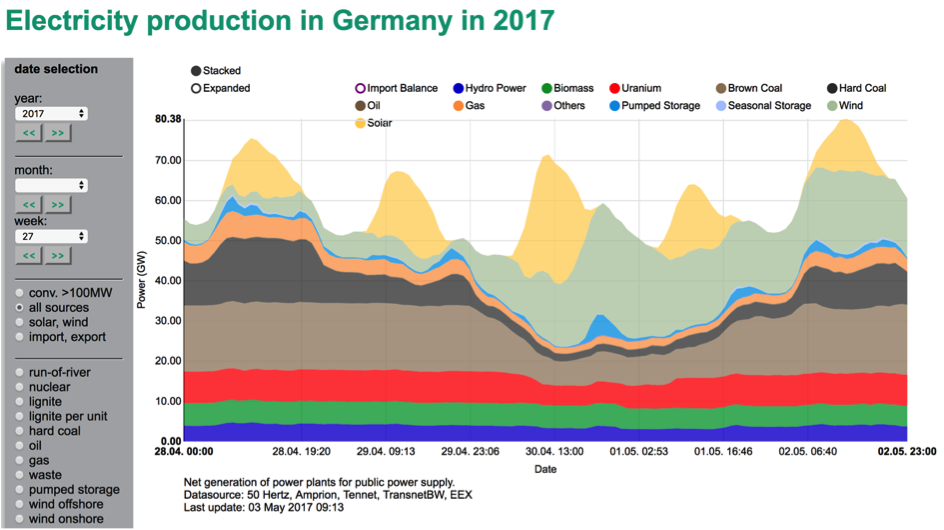 Wholesale prices went negative, but net commercial power exports maxed out at only 8.7 GW that day, as Agora's chart below shows. There simply wasn't more demand abroad on that holiday. But had that level of demand not existed, coal and nuclear would have had to ramp down even more – if they could. (Note that Agora shows commercial power trading, while Fraunhofer shows physical trading. The latter is a good indication of grid usage; it shows how much lines are being used, including French sales to Switzerland via Germany. Commercial trading shows directly how the power plants are affected.)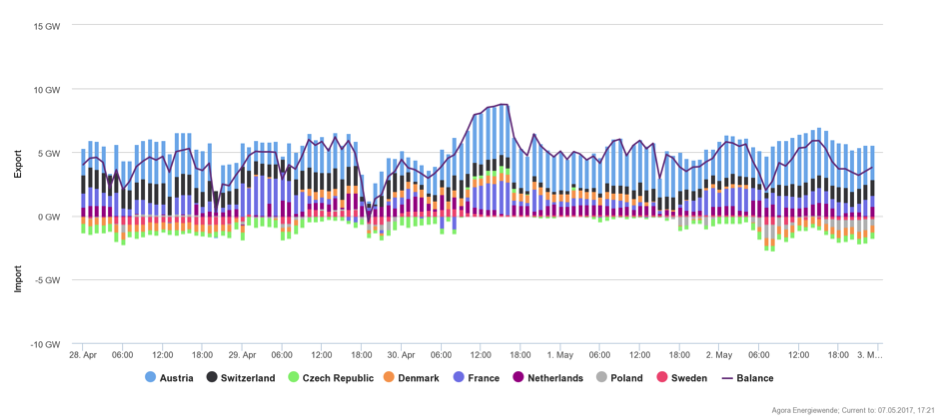 During this lull in the residual load (demand minus renewable power), Germany's nuclear fleet ramped down from 7.9 GW at 2 am on April 2 to 5.0 GW at 1 pm that day. The fleet thus reduced its output by just over a third. Such occurrences are rare; I know of none worldwide that surpass this ramping significantly (but use the comment box if you know more).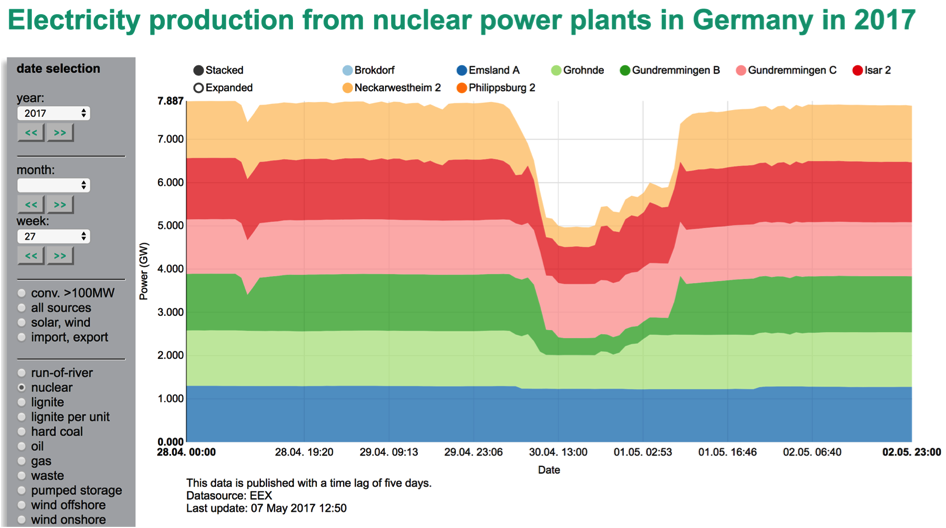 Not all of the plants ramped a lot, and two of the eight remaining ones were offline completely. Emsland A and Gundremmingen C didn't move much. On other days, however, they have, so we know they can theoretically. So more flexibility might be possible from Germany's nuclear fleet. But it has never exhibited more.
In contrast, hard coal dropped from 7.7 GW at 9 PM on April 29 (or 15.6 GW at 8 PM on April 28) to 1.8 GW at 3PM on April 30, while lignite (brown coal) fell from 16.3 GW to 9.1 GW roughly during that timeframe. As always, nuclear ramped less than both coal types and gas.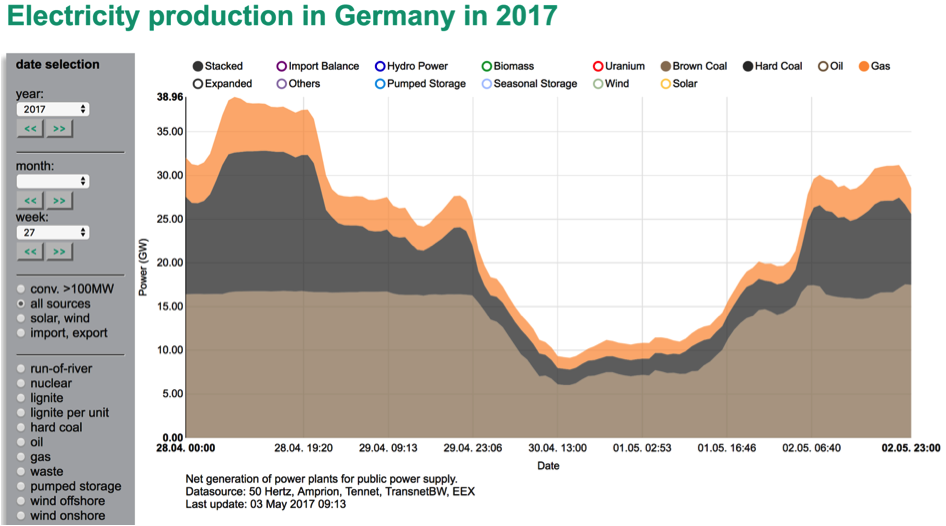 Proponents of nuclear argue that the reason nuclear ramps the least is a no-brainer: it costs the least, so obviously you ramp it down the least. The Germans have a different take; inflexible baseload has to go – and nuclear is the least flexible. Agora's press release (in German) on the matter has not been translated in full, and those who have copied passages left out the part below in bold: "Such constellations will be… completely normal in 2030. Inflexible power plants will then have no place in our power supply; they would only ruin prices. By 2022, the nuclear phaseout will be finished, so that the problem will no longer exist in 2030."
This take is conventional wisdom in Germany but rubs nuclear proponents in the English-speaking world the wrong way. But if nuclear reactors can be more flexible as a fleet, as they claim, why did we still have six reactors running at 60 percent of capacity with the wholesale price at negative 5 cents on May 1 and even lower on April 30?
Various reasons are possible. These reactors may be located at points on the grid where they power was still needed (unlikely and hard to demonstrate). They will have had power purchase agreements (PPAs) and not have been exposed to wholesale prices – but the firms running them all were exposed and lost money on the spot market by leaving the reactors on. They may have needed to keep output at a high level to provide ancillary services (which wind and large solar also do in Germany, so it's unlikely that the grid needed help).
And finally, and quite simply, they may not have been able to ramp down further for some technical reason, or the plant operators may not have wanted to over concern about technical limits. The reactor at Chernobyl blew up during a test ramp that technicians lost control of. In upcoming posts, I investigate the technical flexibility of nuclear further.
Craig Morris (@PPchef) is the lead author of Global Energy Transition. He is co-author of Energy Democracy, the first history of Germany's Energiewende, and is currently Senior Fellow at the IASS.