The decision to go ahead with Hinkley shows that any technology with a long timeframe is a juggernaut in an energy world of foreshortening planning horizons. But other questions remain open: can an EPR be built at all? Why is new nuclear cheaper outside the UK? And isn't Hinkley at least a good low-carbon complement to wind and solar? Craig Morris takes a look.
---
"It looks like a contract that was written five years ago on a business case that was probably pulled together 10 years ago," British journalist Ambrose Evans-Pritchard cites a spokesperson for ScottishPower. And he gives an explanation for why the UK had to go ahead with it nonetheless: "Cancellation of the project would have led to a diplomatic rift with China and France."
Much of the discussion about Hinkley Point focuses on cost. We made the chart below last year based on a previous one from 2013. Since then, wind and solar have continued to get cheaper. Prices for offshore wind recently plummeted to 7.3 euro cents off the Dutch coast—that's 6.2 pence at current exchange rates. Hinkley is nearly 50% more expensive. And the British have offshore wind conditions at least equal to the Dutch. Ten years from now, when Hinkley might go online, new wind power will be even cheaper. Hinkley won't.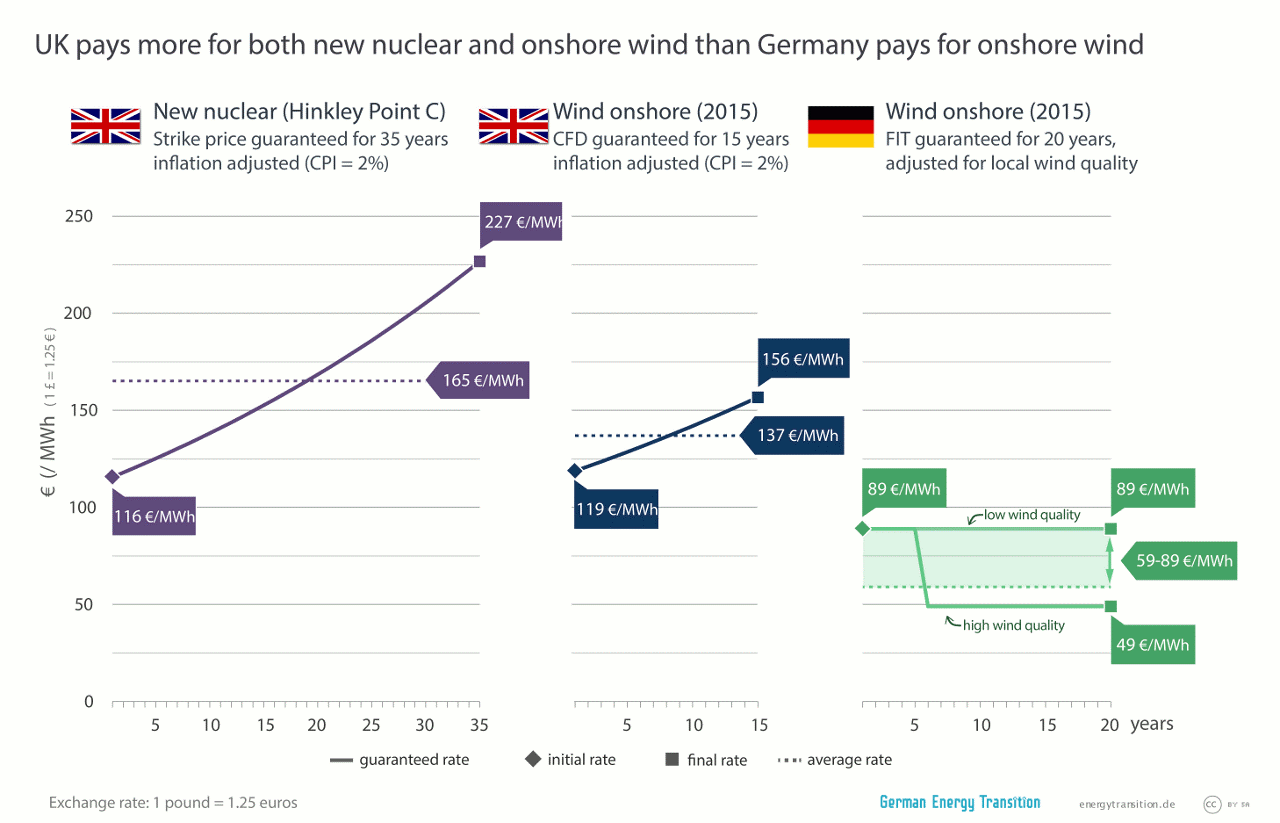 What about constructability? Can the 3rd-gen EPR reactor ordered for Hinkley be built at all? "For French state-owned EDF and the entire French nuclear sector, [Hinkley] is a life-saver," writes Karel Beckman at Energy Post. But if Areva can't complete what is being touted as the most expensive infrastructure project ever anywhere, Hinkley might turn out to be less a ring buoy and more of an anchor that sinks everyone who holds onto it.
The two EPRs currently being built in France and Finland by France's Areva are the model for the two to go up at Hinkley. Both are behind schedule and over budget. If they never go online, it will be a disaster for Areva, the French utility EDF, and the French state (which owns most of EDF). But other third-gen reactors in Asia are performing better, specifically the AP1000 in China and the APR 1400 in South Korea.
Has any such reactor ever been finished?
That depends on what you mean by "such reactor"—and "finished." I have repeatedly pointed out that no EPR anywhere has been built, but this year that may have changed.
Shin Kori 3 went critical (definition) last December and was connected to the grid this year. It is a bit behind schedule, having originally been expected in 2013. World Nuclear News wrote in January that commercial operation was expected in May after tests. However, the reactor shut down for maintenance in August—not untypical for a giant power plant, but an indication that reliable operability had not yet been reached. When an earthquake of magnitude 5.8 struck on September 12th, the reactor was still offline (it would otherwise have needed to undergo an emergency shutdown, as four others nearby did). At most, Shin Kori 3 was online commercially from May to August, though I could find no confirmation online that the unit ever left the test phase (please leave a comment if you know more).
The Chinese were also expected to start up their first AP1000 at Sanmen 1 this month after a few years of delay, but Reuters reported on Friday that the unit is still undergoing hot-testing and is now expected to start full operations next year. So the Korean reactor is the only one that may have gone into operation to date, but it is currently offline. As I write this, no 3rd-gen reactor is running commercially anywhere.
Are all of these 3rd-gen reactors so expensive?
The strike price at Hinkley (the guaranteed price for the power generated) has drawn a lot of attention, but the Asians ones seem much less expensive. We don't know the power prices from the Asian projects, but we do have estimates of construction costs. The cost of Hinkley comes in at 10.5 billion euros—or as much as 21 billion pounds according to the latest estimate. That's two reactors with a cumulative 3.2 GW. For comparison, we'll switch to USD, putting us at a range of 3,900 to 7,700 USD per kilowatt at Hinkley, depending on which estimate you believe.
Sanmen 1 was apparently built for 3,500 USD/kW. Oddly, the same reactor type—the AP1000—is being built in the US for far more money. At Vogtle in Georgia, two AP1000s are to be built by 2019, just ahead of two others in South Carolina. The price tag at Vogtle may rise from 14 to 21 billion USD. Even the lower estimate is around 6,300 USD/kW—nowhere near the Chinese price, but closer to Hinkley. Likewise, the Korean APR1400 came in at an impressively low 2,400 USD/kW back in 2007. Judging from plans to build two new APR1000s, the price hardly seems to have changed at only 2,500 USD/kW.
Plants built in the EU and US thus seem to cost around twice as much as in Asia. Why the difference? Proponents of nuclear generally argue that excessive fear of nuclear accidents makes nuclear plants unduly expensive—but then, 3rd-gen reactors are supposed to be more intrinsically safe by design. The safety costs are planned in already. One expert has said 3rd-gen nuclear is like building a "cathedral within a cathedral." Another expert says South Korea's "nuclear cost data are not independently audited and are therefore of unknown quality."
Baseload: a bug, not a feature
In the end, we have a dilemma: transparency and nuclear safety make new nuclear plants more expensive, even when system integration costs (storage, intermittency, etc.) are accounted for.
Word is getting out outside of Germany, which has understood the issue for years, that nuclear is the worst possible complement for wind and solar. Ambrose Evans-Pritchard says "big nuclear reactors are a poor way" to back up wind and solar because the reactors "cannot easily be switched on and off." But even he understates the argument against baseload by saying, "Britain will always need reliable 'base-load' power to supplement renewables."
In fact, "baseload" describes the inflexibility of a power plant. It's a bug, not a feature. There is no "baseload demand" without baseload plants. Get rid of the latter, and you no longer need to light up your highways at night, as Belgium does, to create artificial demand for nuclear power. You can then tailor demand to renewables just as we tailored it to inflexible nuclear and coal over the past several decades.
So I'm very sorry to all the pro-nuclear climate campaigners: you simply will have to decide. It's either nuclear or solar and wind—not both.
In the end, the energy sector must be seen within society. What future do the British want: one with experts promising them that financially risky megaprojects will work out? Or one in which people have the right to make their own energy so fast that megaprojects are not needed? British MP Caroline Lucas perhaps put it best: "Do we keep ploughing billions into mammoth infrastructure projects such as Hinkley, or do we refocus resources and build up an energy democracy from the bottom up?"
Craig Morris (@PPchef) is the lead author of German Energy Transition. He is co-author of Energy Democracy, the first history of Germany's Energiewende, and is currently Senior Fellow at the IASS.