In July, Germany may have had more solar power than nuclear power for the first time in history – much sooner than anyone expected. It was a close race, and nuclear is likely to retake the lead for the foreseeable future. Craig Morris explains.
---
Up to the end of July, the numbers were incredibly tight, but according to preliminary figures Germany produced slightly more electricity from solar panels than from nuclear plants.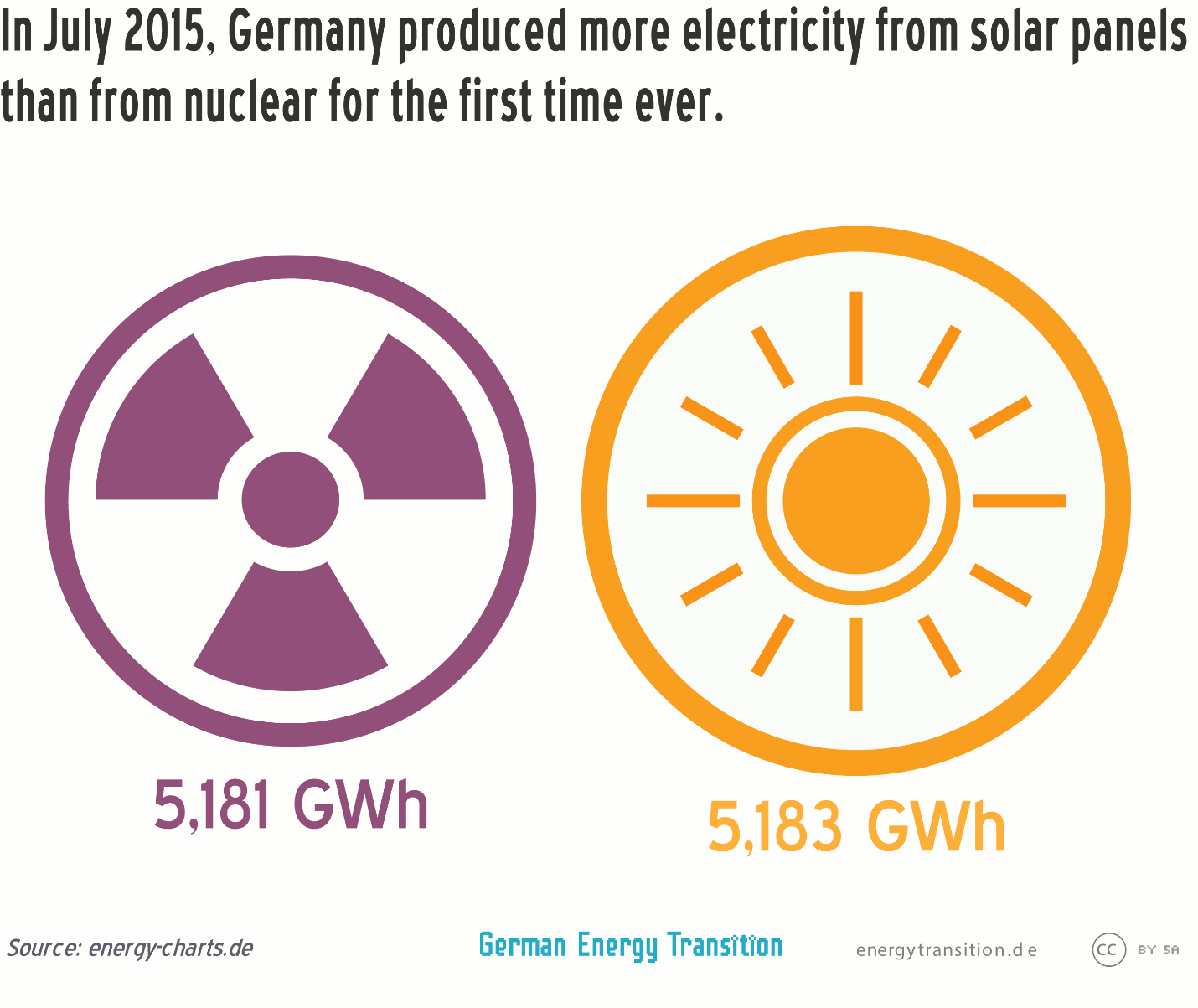 Two effects were simultaneously at work. First, July was an especially sunny month. In July 2013, Germany produced 5.35 GWh of solar power, which is still the record. But back then, Germany also had nine nuclear plants in operation. In June, another nuclear plant was shut down for good. In addition, three nuclear plants were off-line for part of July for scheduled maintenance and refueling, leaving the country temporarily with only five nuclear plants. So the second effect was lower-than-usual nuclear power production.
"It would be nice if we could celebrate a surge in solar power rather than a reduction in nuclear," my colleague Thomas Gerke, who created the chart above, stated when I asked him to make such a chart. Unfortunately, though new record in solar power production was set. Last week, it looked like the difference between nuclear and solar would be much greater, but the difference currently reported is paper-thin. Thomas had to add up all the daily numbers just to corroborate the small difference.
When I contacted Dr. Bruno Burger, who runs Fraunhofer's Energy Charts website (where we got the information from), I asked him how preliminary the figures are. He said that, while the nuclear figures are quite exact, the solar numbers are partly extrapolated – and we will not know the final figures for last month until September 2016! "In my opinion, it is safe to say that solar and nuclear produced roughly the same amount of electricity last month, but not yet that solar produced more," he stated.
As we enter the winter, solar power production will decrease, and power demand will gradually rise. The result will be more space for nuclear plants on the power market. Nuclear reactors are generally refueled in the summer, when power demand is low, so solar may again outstrip nuclear next summer. Or maybe not; the race was tight this year, and very little solar is being built at the moment.
The next nuclear plant will not go off-line until December 2017, so we may even have to wait until the summer of 2018 for more solar power than nuclear to be generated on a monthly basis again. But the writing is on the wall for nuclear power in Germany; by 2023, the country will have closed all its nuclear plants, so solar will then be bigger than nuclear in the country 12 months a year by then.
This new record is, of course, largely symbolic, but it is worth considering how much faster it came than anyone expected. Back in 2009, the German government itself did not expect to have the current level of installed PV until after 2050 (report in German, also see my previous report). Today, the country was expected to have only half as much solar installed. And in 2010, Chancellor Merkel extended the commissions of numerous German nuclear reactors into the 2030s. At that point, more solar than nuclear on a monthly basis may not have happened until the 2020s. Clearly, solar can grow much faster than anyone expected – and that is something worth celebrating.
Craig Morris (@PPchef) is the lead author of German Energy Transition. He directs Petite Planète and writes every workday for Renewables International.