A paper leaked last week reveals the German government's plans to clamp down on emissions from coal power. But the plans are not a done deal – the meeting on Thursday, which was originally to be held last Saturday, has been boycotted once again. By Craig Morris.
---
Germany is likely to fall short of reaching its carbon emission reduction target for 2020. As I explained in December, the gap is estimated at up to 87 million tons in 2020. The government itself puts the figure closer to 60 tons, and it now thinks it has a way to offset that amount.
The problem is that the price of carbon on the emissions trading system is simply too low (generally below seven euros per ton in recent years) to incentivize a transition from high-carbon coal power to low-carbon electricity from natural gas and renewables. Another obstacle is that EU law technically prohibits taxes on fuel inputs – so coal cannot be taxed directly. The UK solves these problems by not allowing the carbon price to drop below 18 pounds per ton starting in April. (The presentation mentioned below from the German Industry Ministry incorrectly puts that figure at "30 euros," perhaps in an attempt to make its own proposal sound like a compromise to opponents of the idea.)
The proposal in Germany is not a simple floor price, however. Rather, plants more than 20 years old are to have a smaller carbon budget, which will essentially push them out of the market. These plants run at low efficiencies, so they produce more carbon per unit of electricity generated. As the graphic below from the German Industry Ministry shows, plants younger than 20 years will not be affected. Those between the age of 20 and 40 will see their annual emission budget drop from 7 million tons of CO2 per gigawatt down to 3 million in linear fashion. For instance, a 30-year-old plant would have a carbon budget of 5 million tons of CO2 per gigawatt.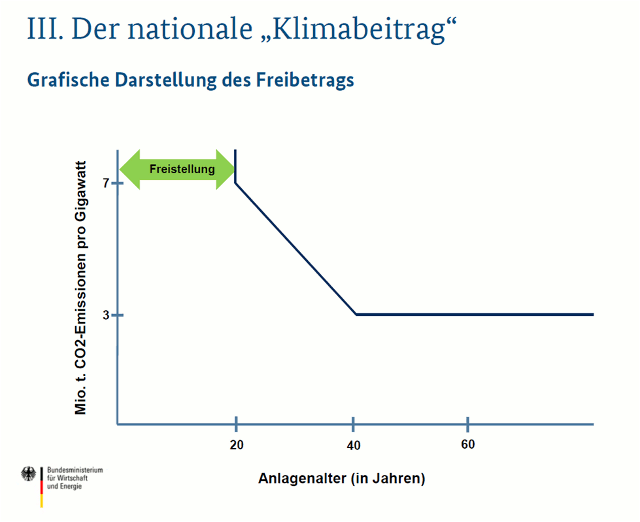 The government speaks of "emissions certificates" – so Germany is essentially about to implement a national emissions trading platform within the EU platform. The presentation from which the chart above is taken (leaked, not available online) speaks of a need to react to the low carbon prices and adds that the European platform cannot be improved substantially until after 2020, "which is too late." So the Germans have decided not to wait on Europe, but to go it alone.
Under current policy, Germany expects to reduce emissions by 37 million tons per year from renewables and efficiency. This additional "coal phaseout" will take another 22 million tons out annually, resulting in a total of 59 million tons. The cost impact is to remain marginal at no more than 0.2 cents per kilowatt-hour. If a utility overshoots its budget, it will have to purchase certificates on this German trading platform. But again, details remain unclear.
Germany believes the proposal is in line with EU law with this approach, which does not penalize one particular fuel input over another. It is not specifically directed at coal, for instance; in practice, however, it will target lignite in particular.
The package was coordinated between Industry Minister Sigmar Gabriel (SPD) and cabinet head Peter Altmaier (CDU). And while the SPD has generally been more supportive of coal power as a party traditionally representing workers (including coal miners), it seems that Altmaier does not have all of his ducklings in a row this time. Numerous top CDU politicians have spoken out against the policy. On Thursday, they could have worked out their differences, but at the moment the proposal is in limbo. To get an idea of the dispute, see this conversation (in German) on Twitter between Energy Undersecretary Flasbarth and top energy politicians from other parties. Until the governing coalition comes to an agreement, we will not know any real details.
Over at German climate website Klimaretter, Felix Matthes of Öko-Institut (which helped design the policy proposal) says we should not speak of a "coal phaseout" either, since the plan differs so much from the nuclear phaseout. There are no deadlines for specific plants, nor is there any requirement for a complete shutdown of all coal plants. Rather, the aim seems to be to let plant owners themselves decide how to react.
It seems that the German government is trying to learn a lesson from the 2011 nuclear phaseout, which has led to a slew of court cases. It also seems clear that the government still takes the 2020 emissions target seriously.
Craig Morris (@PPchef) is the lead author of German Energy Transition. He directs Petite Planète and writes every workday for Renewables International.