German renewables organization AEE has updated and simplified its statistics on green energy ownership. Craig Morris says the new figures are much easier for foreigners to understand.
---
As our regular readers know, lots of countries are switching to renewables, but what makes Germans different is the democratic aspect – ownership of energy generators is transitioning from corporations to SMEs and citizens. But up to now, the situation has been hard to explain because the Germans are used to the different categories of investors, but foreigners are not.
The new study (PDF in German) published by the AEE is intended to clear up the situation by answering the main question: what constitutes "citizen energy" (Bürgerenergie). Let's begin with the original chart.
You can see here how hard it was for me to explain the updated data for 2012. But now, the AEE has done us the favor of simplifying the categories in three new charts.
Another chart breaks down ownership within the category of Bürgerenergie. First, we see that 34 gigawatts is considered part of the grassroots movement. Individuals are behind 18 GW of that (mostly PV). But a distinction is made between "Bürgerenergie societies" (7 GW) and "citizen holdings" (9 GW); the former are, roughly, investment groups in which citizens have a majority and the focus is on locals, while the latter is more open to investors from anywhere, and citizens are a minority (crowdfunding would be here).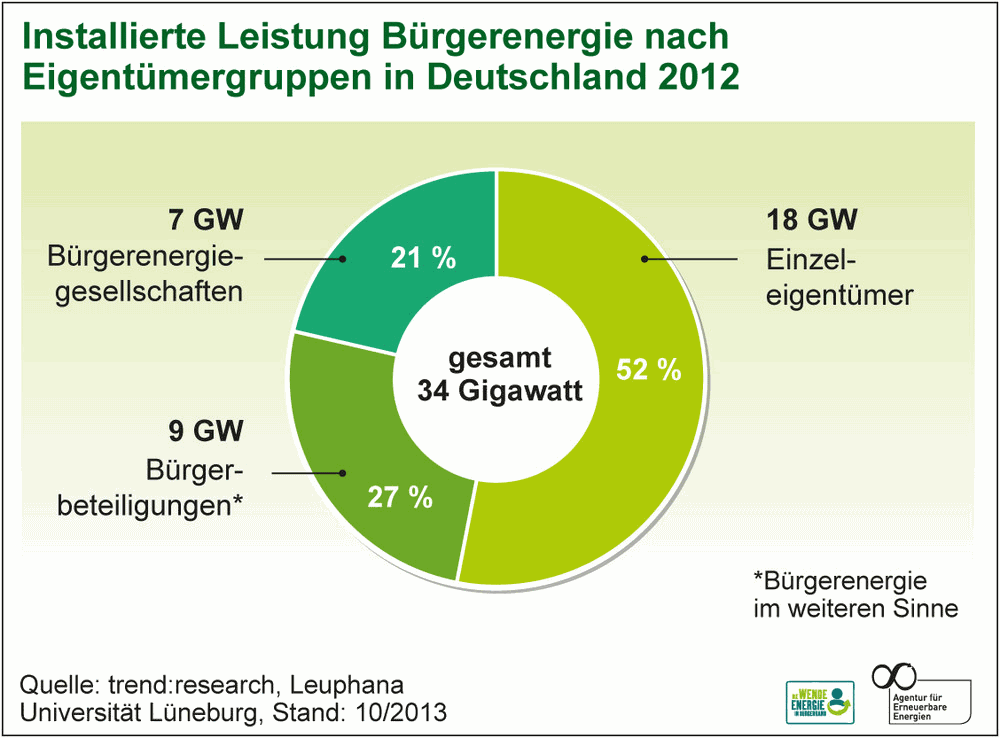 Finally, we see in the following chart that this 34 GW of Bürgerenergie makes up 47% of all installed renewable capacity, compared to 12% for "energy providers" and 41% for institutional and strategic investors.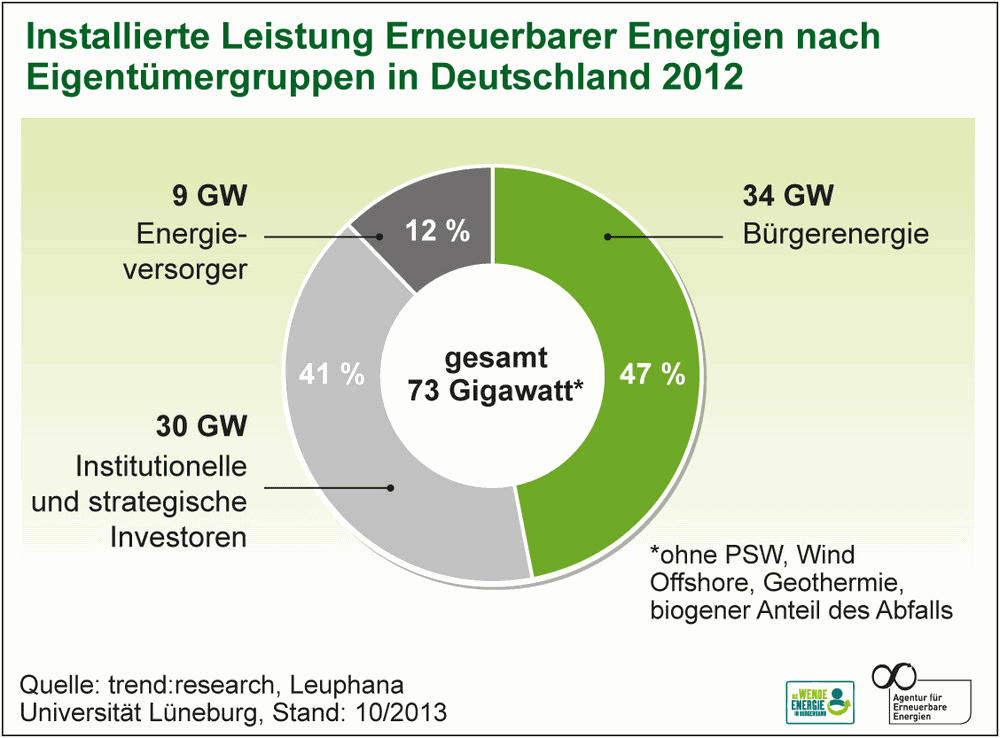 Perhaps the best thing about the study is that it allows us to move beyond the various categories and simply speak of Bürgerenergie – a topic that is often overlooked in the debate, which has focused too much on cost and (unfounded) concerns about reliability in recent years. Most politicians have yet to be asked to explicitly state on their position energy democracy, though most have already said what they would do to protect consumers from higher prices.
Yet, the reason why so many Germans are willing to accept higher power prices is clear – they increasingly pay that money back to themselves.
Craig Morris (@PPchef) is the lead author of German Energy Transition. He directs Petite Planète and writes every workday for Renewables International.