The biggest nuclear site in Europe containing the world's biggest stockpile of nuclear explosives is at risk of blowing up. What does this short-term decay tell us about the very long-term sustainability of a technology whose toxic waste last at least 24,000 years? Dr David Lowry takes a closer look.
---
In 1987 the United Nations-sponsored World Commission on Environment and Development (WCED), under the chairpersonship of Gro Harlem Brundtland, a former Norwegian Prime Minister, adopted the following now universally acclaimed definition of Sustainable Development as "development that meets the needs of the present without compromising the ability of future generations to meet their own needs".
The Brundtland Commission – as it became to be known – also concluded in its final report, "Our Common Future", that, because of the important ethical principle of  intergenerational equity, (Sustainability 2018, 10, 3836) the people of the present must leave the earth's resources in as good a condition as in which they found them, to allow future people to use these resources as well.
Or, as the then UN Secretary General, Ban Ki-moon, put it in 2013: "nearly all human traditions recognize that the living are sojourners on Earth and temporary stewards of its resources."
In this context, is interesting to note the long-running battle on what kind of energy sources should be treated as "sustainable" . EU energy lobbyists from the gas and nuclear industries are waging a lobbying war to have their own energy technology included in climate section of the EU's Sustainable Finance Taxonomy.
Last month, Reuters reported that "the gas and nuclear industries have ramped up lobbying to secure last-ditch changes to European rules defining which investments are sustainable, fearing that exclusion from a new "green" list could deprive them of billions of dollars of funding."
With the climate section of the EU's Sustainable Finance Taxonomy due to be finalised this year, Reuters pointed out this could "could prove crucial as nuclear power and most natural gas plants and pipelines were excluded from a provisional list published in March."
Reuters also revealed that in the four months since the rules were published, gas and nuclear industry representatives held no less than 52 meetings – in person or virtually – with EU officials, according to EU logs analysed by non-profit Reclaim Finance, adding "Nuclear groups in particular have stepped up their lobbying: of the 36 meetings they've held over the past two-and-a-half years, 10 have taken place since March."
Reuters reported nuclear industry groups as saying using uranium as an energy source "deserves a sustainable label" –  based on its low carbon emissions and existing secure waste disposal sites, adding, they fear that if nuclear isn't deemed sustainable "the cost of capital for power plants will rise – a concern for an industry where flagship projects, such as Britain's Hinkley Point C reactor, are struggling with spiralling costs".
The news platform also revealed that to help get the message across, several nuclear lobby groups enlisted the help of the public, tweeting to encourage responses to an EU consultation in April on the proposed rules – and suggesting what to write, resulting in the "fake" generation 126 responses to the EU consultation from concerned citizens asking for nuclear power to be termed sustainable – nearly a third of all the responses received, according to InfluenceMap analysis.
Lobby groups told Reuters they were confident nuclear power would ultimately be considered sustainable, but they want the energy section of the taxonomy delayed until the report is done.
Meanwhile, in the UK, which will not be subject to the new EU rules on sustainability-based energy investment – as it leaves the EU on 31 December this year – a significant recent safety and security development at its flagship atomic waste management and fissile materials storage site at the sprawling Sellafield complex on the West Cumbian coast in England's north west, demonstrates in microcosm how nuclear can never be sustainable, and cannot meet the  intergenerational equity criteria for a sustainable system.
Bang goes Sellafield!
On 13 August, Sellafield's chief propagandist, Jamie Reed – formerly MP for the Copeland parliamentary seat that contains Sellafield (and before that a press officer for  the then UK state nuclear waste disposal company, NIREX, now defunct)  –  issued a Panglossian press briefing that he entitled  "Cleaning up our nuclear past: faster, safer and sooner"
One section was headlined "Beyond Sellafield: Investing in the next generation" – and started with the very positive assertion:
"In recent weeks we've announced and revisited projects that will have an almost immediate impact in our communities…" adding "We know that in the future we're going to need higher-level skills to progress our clean-up mission at Sellafield."
He could say that again!
The very next day, Sellafield Ltd issued another press release, under the anodyne headline
"Chemical disposal at Sellafield"
It opened, revealing that
"chemicals have been identified as requiring specialist disposal on the Sellafield site,"
and added
"During a routine inspection of chemical substances stored on the Sellafield site, a small amount of chemicals (organic peroxide) were identified as requiring specialist disposal.
This chemical is used for a variety of purposes across many industries. In line with established procedures, support has been requested from Explosive Ordinance Disposal (EOD). The EOD team is now in attendance at the Sellafield site and will dispose of the chemical safely.
Chemical monitoring is undertaken across the site to understand changing chemical states and to inform when and how industrial chemicals should be stored or disposed of. This chemical substance was stored in the site's Magnox Reprocessing Plant. The storage area is safely segregated from the nuclear operations of the plant and the risk has been identified as a conventional safety issue rather than a nuclear safety risk.
As a precautionary measure, a controlled evacuation of the Magnox Reprocessing Plant was carried out yesterday in order to investigate the chemical and devise the appropriate course of action. The plant was non-operational at the time.
The plant will remain non-operational while the chemical is disposed of. As ever, our priority remains the protection of our workforce, community and the environment."
It sounded transparent and seemed un-alarming. But this was not the first time Sellafield had failed to control safely dangerously chemicals with potential to cause an explosion
Local Sellafield monitoring group, CORE (Cumbrians Opposed to a Radioactive Environment) were so alarmed they circulated a comprehensive press release first issued on 4 July 2018, under the appropriate headline:
"Chemical Chaos and Confusion at Sellafield – yet another intolerable risk?"
CORE properly noted one of several alarming conclusions of the internal Sellafield Ltd Board of Inquiry into this incident read:
'As a site, the full appreciation of chemical legislation, including The Dangerous Substances and Explosive Atmospheres Regulations DSEAR, has been inadequate'
CORE recorded that some of Sellafield's 1400 buildings (operational and legacy) are considered by the independent financial watchdog, the National Audit Office (NAO) to fall short of modern standards and, through deterioration, 'pose a significant risk to people and the environment'.  
Identified as amongst Sellafield's top 10 highest hazards is the site's plutonium stock and associated management facilities, the NAO report warns specifically of decaying plutonium canisters – a leak from which would add to the growing list of 'intolerable risks' posed by Sellafield as identified by the Office for Nuclear Regulation (ONR) and the acknowledged risks posed by the volumes of hazardous wastes and materials stored in run-down buildings.
The owner of Sellafield – Europe's largest nuclear site- on behalf of the taxpayer is the Nuclear Decommissioning Authority (NDA). In a 164-page draft strategy document released on 17 August, the NDA revealed this alarming situation on its plutonium stored on site. (Sellafield has 140,000 kilogrammes of explosive plutonium in store: for context of the hazard, the atomic bomb that obliterated the centre of the Japanese city of Nagasaki on 9 August 75 years ago, killing 70,000 people instantly, contained just 6.4 kilogrammes of plutonium!)
In the report's section on plutonium storage – at page 60 – it admits alarmingly:
"The NDA considers some of the older plutonium packages and facilities used in early production to be amongst the highest hazards on the Sellafield site. A major programme of asset care has and continues to be undertaken at these facilities to support safe operation until they can be taken out of service and decommissioned.
Some older packages are to be repacked in existing plants to ensure their safe management
in the short to medium term."
Rickety labs are waiting for accidents to happen
Sellafield's Analytical Services Laboratory (ASL) is one of the oldest facilities on site (built in 1951) and located in the tight and highly controlled confines of Sellafield's so called 'Separation Area' alongside old reprocessing plant (where nuclear explosives plutonium and uranium are recovered from nuclear waste) and the high hazard legacy radioactive waste ponds and silos.
Around 50 of ASL's original 150 laboratories are currently operational. They were described by the Office for Nuclear Regulation (ONR) in June 2017 as a
"relatively high risk' facility whose laboratories hold a 'considerable radiological inventory" that
"has potentially high off-site consequences in the event of a major accident."
So, when the 'Bomb Squad' arrived in late October 2017 to deal with these unstable chemicals with their potential to ignite or explode, they demanded the immediate evacuation of workers and a 100-metre cordon thrown up around ASL should have triggered major alarm bells locally and further afield.
Sellafield's website quietly published an update of this first alarming incident, and concluded on 1 November 2017 that "our chemical disposal work has concluded and the Analytical Laboratory is preparing to restart'" suggesting that all was well with ASL.
But this was actually fake news, as was later made clear by the findings of Sellafield's subsequent Board of Inquiry report, finally published on 1st February 2018 .
Sellafield censored the full contents – in a 'blacked out' procedure called redaction. They have never released the full unaltered report.
The Sellafield safety campaigners CORE – led by giant former policeman, Martin Forwood, who died nearly a year ago- finally obtained a fuller version of the report after demanding its release from Sellafield in the public interest.
It alarmingly highlighted the current day and past chaos and confusion that has underpinned Sellafield's management of the hazardous chemical inventory contained within ASL in which radioactive materials are also stored.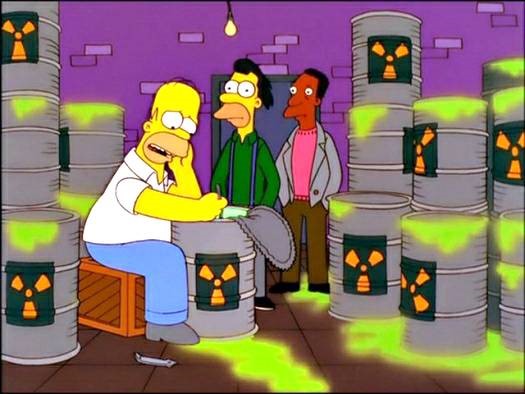 The Board of Inquiry report into the event highlights a catalogue of incompetence of which the legendary Homer Simpson himself would have been proud!
It revealed that the initial discovery of the suspect chemicals – a part filled 500ml bottle of potentially unstable Tetrahydrofuran (THF)- unbelievably stored in a flammable vault within ASL, had actually been made on 3rd October, almost three weeks earlier.
Only then did Sellafield declare an Operational Alert and the Army's Bomb Squad was belatedly called in to detonate the chemicals via a series of controlled explosions made on 21st and 22nd October.
Then, following further inventory check of the laboratories which discovered more suspect THF and vials and bottles of Quickszint, the Bomb Squad had to be recalled and continued to make further disposals until the 1st November 2017.
Last week it happened all over again, with apparently no lessons learned by a dopy Sellafield management!
Highlighting the many failings of Sellafield's chemicals management, the Board of Investigation's critical report arrives at the following alarming conclusions: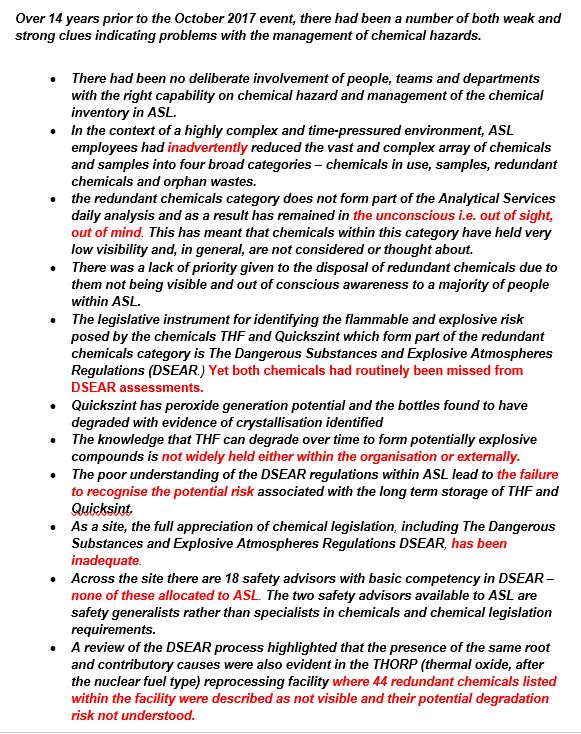 Now, nearly three years on, we could have another massive explosion on our hands in the north of England, with devastating consequences going beyond imagination.
Because we would not have a grain storage silos spewing out its contents, but the biggest store of nuclear explosives on the planet – bigger than America's or Russia's – releasing its deadly toxic contents.
If even extremely small quantities (micro-particles) of this radioactive material – named after Pluto, the God of Hell – were blown into the atmosphere by a chemical explosion, it would threaten the entire north of England.
In particulate form it can cause cancer with just one speck, if the so-called alpha radiation particles from the plutonium got into human lungs.
It could even render Britain's countryside jewel of the Lake District – located just inland from Sellafield on Cumbria's coast – out of bounds for many years.
So, the outstanding question remains: What are the UK's safety and nuclear regulators doing about this terrifying – and utterly unacceptable – threat other lives of millions of British residents? They need to top of their game to face down this home-made threat, arising from incompetence and over weening secrecy!