The Dakota pipeline protests could be the start of something big. Germany's Energiewende began as a civil rights movement. Now, Americans are beginning to protest across the country, demanding that the energy sector respect society. Craig Morris asks: when will you join the movement?
---
At present, my coauthor Arne Jungjohann and I are touring North America to promote our book. Our main message: Germany's national energy and climate policy began as a grassroots movement for civil rights – against the practice of privatizing profits and socializing risks. At the end of our presentations, one question is often asked: how can we make that happen here in the US?
My answer? It's already happening. You just have to join the movement. Can't make it to North Dakota? Hundreds of people marched in Seattle recently. Take the protests to your home town (you can sign up for world-wide November 15th #NODAPL Day of Action here). President Obama's recent announcement that the US is considering changing the pipeline's route shows that the protests are having an impact. So take your next vacation in North Dakota. And help make sure the protests remain peaceful.
The overlapping between the beginnings of Germany's Energiewende movement and the current protests against the pipeline through Native American lands in the Dakota is salient. We could therefore be witnessing the beginning of a grassroots US movement for greater respect for citizens in the energy sector – but only if we grasp this unique opportunity. Here's why we should:
Rarely do two opposing sides so clearly represent good and bad. Sympathies will easily lie with the Native Americans, who have been wronged for centuries.
The firm and the government (!) have clearly broken the law. The Native Americans had the right to have input on the process. They were not consulted. They were ignored.
The show of force by the police will backfire, and the whole event will become an issue of respecting citizenry – exactly what happened in Germany in the protests of the 1970s that became the anti-nuclear movement.
The Energiewende has led to an informed public that now speaks eye to eye with engineers and public officials. Both sides now respect each other. We need respectful civil discourse now in America more than anything else. The Dakota protests are the best opportunity for the public to demand that respect that I can remember. It's time for energy democracy in the United States.
With that in mind, here are some quotes showing the overlapping between the Dakota protests (taken from the press in the left column) and the Energiewende (taken from our new book in the right column).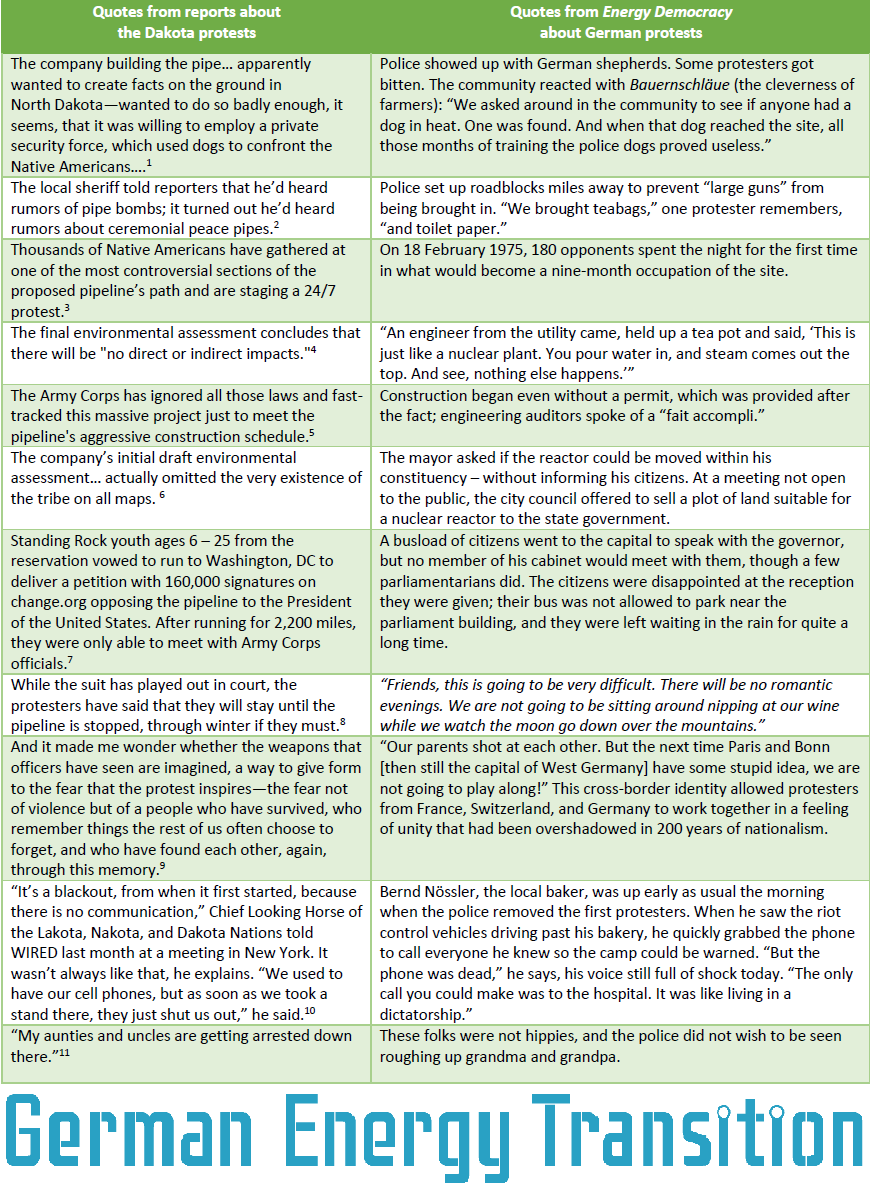 [1] (The New Yorker), [2] (The New Yorker), [3] (Time.com), [4] (Mother Jones), [5] (CNN), [6] (Native News Online), [7] (CounterPunch), [8] (The New Yorker), [9] (The New Yorker), [10] (Wired.com), [11] (Wired.com)
Craig Morris (@PPchef) is the lead author of German Energy Transition. He is co-author of Energy Democracy, the first history of Germany's Energiewende.