German town Haren and the Dutch town Emmen try to build a regional, decentralised, mostly communal cross-border energy system. But there are several challenges that both municipalities in Emmen and Haren are facing which could be solved by a more coherent policy framework on the European level. Kathrin Glastra (Heinrich-Böll-Stiftung EU) and Anna Leidreiter (World Future Council) have a look.
---
If one municipality in let`s say Germany produces more renewable electricity than it needs and the neighboring municipality in e.g. the Netherlands wants to use it: Does that work? Melinda Loonstra-Buzogány from the Dutch Gemeente Emmen would say: It is complicated, but let´s try it. This is why she and her colleagues embarked on an exciting project with their German neighbor town Haren on the other side of the border which is called "Smart Energy Region Emmen Haren" (SEREH). In SEREH, the two pioneering local governments try to build a regional, decentralised and mostly communal cross-border energy system in Emmen-Haren by connecting supply and demand locally to keep the socio-economic benefits of renewables in the region.
In fact, Haren is already 147% self-sufficient by renewable electricity. The excess renewable electricity is already causing grid problems and its transportation to users in other parts of Germany would require a very expensive extension of the grid. At the same time, Emmen on the other side of the border has set itself the target to become CO2 emission free by 2050, consequently having a high demand for the excess power from Haren. The current renewables supply in Emmen is at 3% and comes mainly from solar PV. However, transportation on the high voltage grid to the Netherlands is only possible on negative prices due to national competing regulation, but also because of high taxation and interconnection costs.
"When we visited our German neighbors in Haren to learn from their exceptional work on renewables, we had the idea to come up with a regional solution to reduce costs for everyone and keep the profits in the region." says Melinda Loonstra-Buzogány.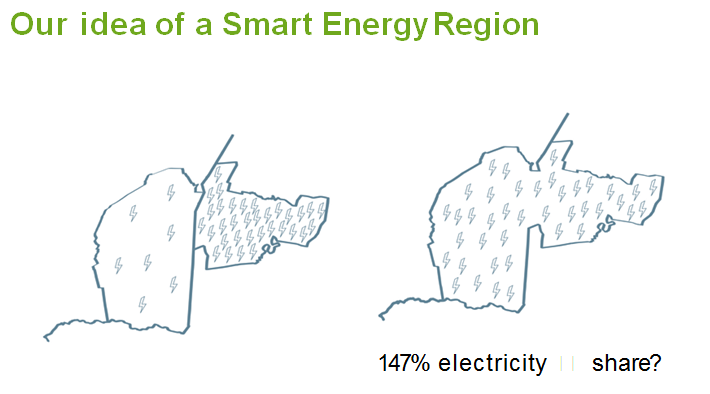 SEREH is aiming at harvesting several advantages by establishing an Interconnecting Medium Voltage Grid (DSO level) in Emmen and Haren: a) civic energy sources and local profit, b) less transport costs, c) no need to extend the grid, d) cheaper energy and d) emerge of new businesses. However, there are several challenges that both municipalities in Emmen and Haren are facing which could be solved by a more coherent policy framework on the European level. The main challenges that Melinda Loonstra-Buzogány sees are a) national legislation on interconnection, b) TSO monopoly and taxing, c) differences in subsidy systems, and d) lack of market incentives.
This would be an excellent opportunity for the EU to step up and facilitate progress in regional cooperation. How? By resolving the most pressing contradictions in national regulations on either side of the border. Why? To enable a truly regional approach to produce and use renewable electricity (close to) where RES are generated in abundance.

The good news: This is starting to happen: the idea of regional cooperation to enhance renewable energy across Europe has high-level political support in the European Commission and in the European Parliament. It features prominently in the Energy Union proposal as a way forward to reach its goals and is also discussed in the framework of the Renewable Energy Directive II. It can also constitute a first step towards a more integrated European energy market and therefore is an adequate tool to achieve the policy goals of the Energy Union. While renewable energy sources (RES) will have to play a predominant role in the EU's future energy mix in order to ensure a competitive, secure and sustainable energy system, the EU's Climate and Energy 2030 Framework lacks ambition with regards to the low RES target of "at least 27%" but also due to its "EU-wide" level approach without binding or specific Member State contributions. Given this weak policy framework, there is however one mechanism, which could increase the share of renewables to the scale and speed that is needed given today`s challenges: The idea of regional cooperation. It is seen as a promising way to bridge the gap between national policies and the Europeanised approach.

There are encouraging examples on the local level, regions need the support of the European Commission from a regulatory, institutional and financial perspective. Therefore, a mix of bottom-up and top-down elements is the only way forward as national legislation determines the opportunities and limitations for cities and regions to act. Too often, legal obstacles are major practical barriers and result in inefficiencies.
To learn more about some of the proposed solutions and ways forward, please find here the report of the stakeholder workshop on which this blog is based. The event was part of the series of stakeholder workshops hosted by the Heinrich Böll Foundation (HBF) EU office and the World Future Council to further develop, discuss and exchange policy solutions enhancing and strengthening regional cooperation aiming at a sustainable energy transition. To learn more about it, click here.
Note: Source of pictures