How much of its energy does Germany cover from solar energy, and how much of it comes from lignite? Before you read Craig Morris's answers, go ahead and take a guess. Maybe you read a number recently?
---
Deutsche Welle put it clearly last year: "Lignite is still Germany's primary energy source." Or is it so clear? Let's take a look at this chart based on official data: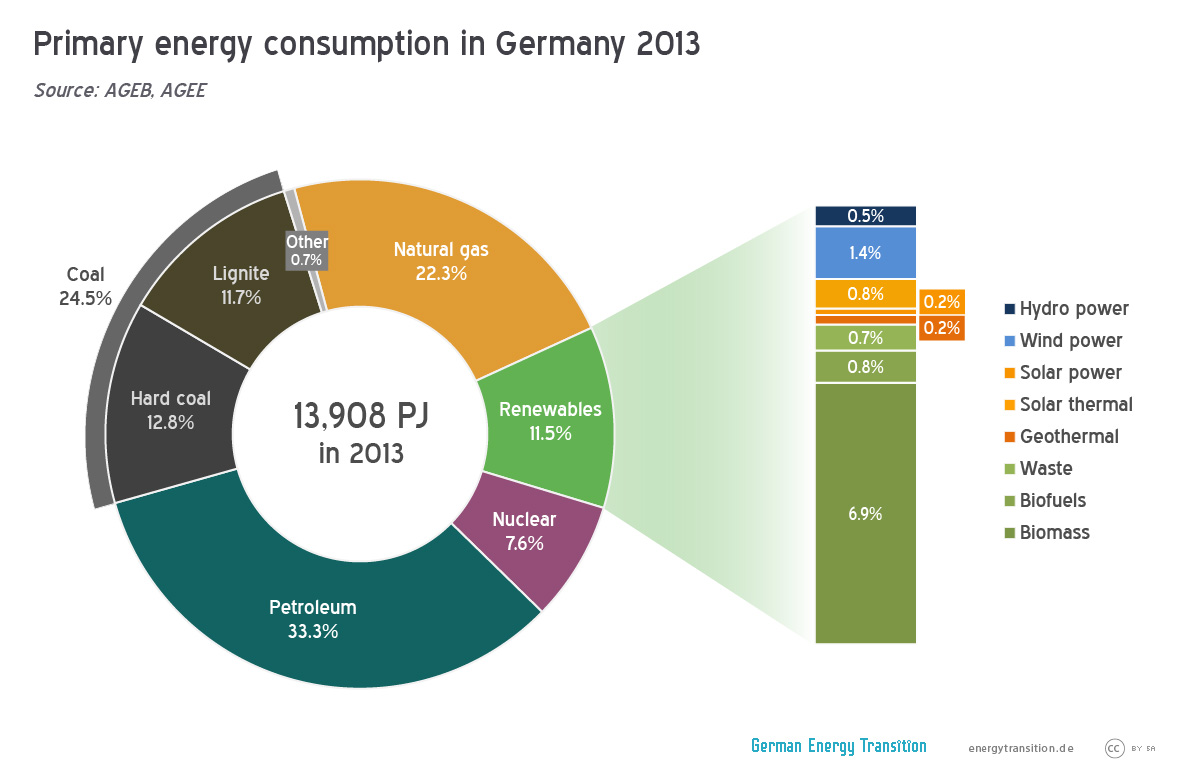 As we see, the largest source of energy as a part of demand is clearly petroleum, followed by natural gas. Lignite comes in fourth behind hard coal. If we take hard coal and lignite together as coal, then coal squeaks past natural gas to come in second. How did Deutsche Welle get it so wrong?
A number of errors are frequently made in this context. First, people confuse energy and electricity. Electricity makes up around 20 percent of energy consumption in Germany (compared to 40 percent in the US). The Germans consume the other 80 percent in the transportation and heat sectors, with much of it being oil and gas.
Another frequent distinction that gets overlooked is between peaks and averages. When renewable electricity peaked at around 73 percent of power consumption briefly one day this year, we suddenly saw reports that "Germany gets three quarters of its energy from renewables." Such a statement conflates peaks and averages along with energy and electricity.
But Deutsche Welle did not confuse those things. There is one sentence in the article that helps shed light on the issue: "Germany produces more than 15 percent of its energy by burning lignite coal." 15 percent is pretty close to the 12 percent in the chart above, so the article is probably talking about primary energy consumption. The article thus does not indicate what the headline gets wrong.
What we can say, though the chart does not show it, is that lignite is the biggest source of domestic energy in Germany. Almost all the other conventional energy (including uranium for nuclear plants) is imported. Otherwise, we can say several things based on the chart above:
The share of renewables is greater than nuclear, even when we exclude hydropower.
Indeed, the share of bioenergy (nearly half of which is waste in Germany) alone is larger than nuclear. (That's true worldwide as well, incidentally.)
The share of solar (photovoltaics and solar thermal) in energy supply is around one percent.
Renewables made up close to 12 percent of German energy consumption in 2013.
Wind and solar power together make up only 2 ½ percent of German energy consumption.
What lessons do we draw? Nothing new, really. First, that Germany's Energiewende desperately needs to start addressing the transportation and heat sectors – but we already knew that. And second, don't believe everything you read (except here, of course).
Craig Morris (@PPchef) is the lead author of German Energy Transition. He directs Petite Planète and writes every workday for Renewables International.