If it takes too much energy to make generators of renewable energy relative to what these units produce, the energy transition will not be possible. A new study by nuclear researchers finds that the need for storage and backup makes the EROI of renewables too low. Craig Morris investigates.
---
Energy Returned on Energy Invested (EROI or EROEI) is an expression of energy payback – how much energy we get out of the energy we put into a system. Overall, the safest thing you can say about EROI is that it is controversial and hard to calculate to everyone's satisfaction, as this article in Scientific American explained last year.
Now, a new scientific paper by nuclear researchers in Germany is making the rounds, such as on this popular website among nuclear advocates arguing for nuclear as a way of combating climate change. A version was published by Elsevier and is available behind a paywall. For free, you can access the draft submitted (PDF). Below, my comments apply for both versions.
Much of the paper is devoted to explaining how the calculations for EROI were made. The main tweak revolves around the authors' rejection of a common way of counting renewable energy – with "renewable" always written in quotation marks in the study. The debate is not new; there is an ongoing debate over the distinction between the physical content method (which the IEA uses) and the substitution method (which BP uses). Suffice it to say that each calculation has its justification because each measures something slightly different. Importantly, the share of renewables looks bigger in the physical content method; the paper argues for the substitution method.
In general, the authors seem keen on tweaking the calculation in order to make nuclear look better – and renewables worse. In the Wikipedia entry on EROI, to take a relatively neutral source, the EROI of nuclear is around 15, though it ranges from 10-75 depending on the specific type of nuclear technology (there are many). Wind comes in at an EROI of 18; photovoltaics at 6.8. In other words, you get 18 times more energy out of the wind turbine than you put invest in it during manufacturing, installation, operation, and dismantling.
Importantly, the study cited at Wikipedia has nuclear fairly square in the middle of the pack behind hydropower, coal, and oil – running alongside natural gas. The paper under review here reaches a much different ranking: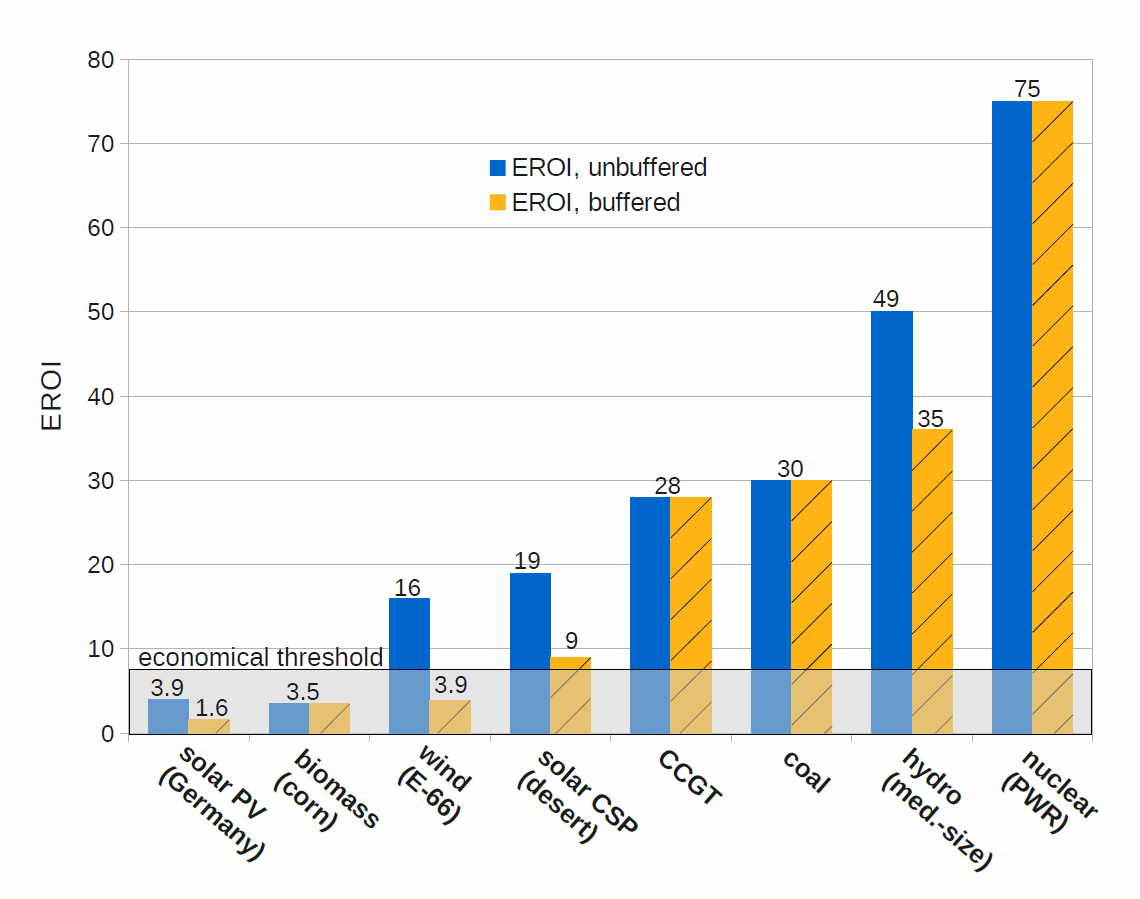 Here, "buffered" indicates the energy payback of a technology within a supply system, the assumption being that solar and wind (and apparently hydro) require storage and backup capacity, both of which further reduce the "unbuffered" EROI, which only measures, say, the energy put into and gotten from a solar panel.
This is where the argument begins to unravel, for the assumption is untrue. Germany has pumped hydropower storage capacity, but none of it was built for solar or wind. The largest such facility in Germany is in Goldisthal, where construction began in 1997.
At present, Germany has 10 percent wind power and seven percent solar, none of which requires storage because the country has never had more than 75 percent renewable power, a record set in August. German researchers have found that the need for storage is not relative to wind + solar anyway, but to the combination of inflexible baseload along with wind + solar.
Likewise, France may run its nuclear plants as close to maximum capacity as possible, but it idles a gigantic fleet of backup capacity for much of the year to cover rare peaks in demand specifically because those nuclear plants cannot be ramped up above 63 GW.
The paper portrays fossil and nuclear plants as entailing no backup costs, which is clearly untrue. Furthermore, the authors assume that "new and refurbished nuclear plants" have service lives of "even more than 60 years." As an average, that figure flies in the face of facts. No nuclear plant has ever been in service for 60 years. The oldest one in the world right now is Beznau-1 in Switzerland, which turned an impressive 45 on September 1.
While it is true that some nuclear plants have had their service lives extended to 60 years, they will have to make it there first. The oldest nuclear plant in France, Fessenheim, is 42 but scheduled to be decommissioned in 2016. The oldest one in the UK, Wylfa, was off-line for seven months this year and is scheduled to shut down this month, though it could be extended for one more year.
Under current commissions, the last of the UK's 16 nuclear plants but one will retire by 2023, only a year after Germany's nuclear phaseout is completed. The EU currently has some 130 nuclear plants with an average age of around 30 years. Without having formulated any phaseout policy, the European Union faces a massive nuclear phaseout by the 2030s, with only two nuclear plants currently under construction (in France and Finland) to replace 130. Both are grossly over budget and behind schedule.
The market is behind this unannounced nuclear phaseout, with even existing nuclear being considered too expensive to leave in operation. In the US, five nuclear reactors were shut down in 2013 for economic reasons, none of them older than 40.
In countries where governments trump markets, such as China, nuclear continues to be built, but in countries like the UK and now Japan the banking sector requires price guarantees above market rates before building a new nuclear power plant.
Assumptions about renewables
While the service life of nuclear is overstated, wind turbines are expected to run for 20 years, a level commonly reached. They are then dismantled (and largely recycled) to make space for more modern units, not because they don't work or are a danger to anyone. For PV, 25 years is assumed, the length of warranties – in reality, the panels will work for 35 years or longer, albeit at lower production levels.
Other assumptions for solar and wind are hair-raising. The study puts the EROI of solar at 3.9, compared to 6.8 in the study cited on Wikipedia. The authors also dismiss thin-film solar, claiming that "there is not even a fraction of the needed Indium or Tellurium available in the Earth crust."
For tellurium, this was news to me. An NREL study from 2013 (PDF) found that "the current global supply base of tellurium would support <10 GW of annual traditional CdTe PV and manufacturing production" but also found "significant upside potential." Keep in mind that 10 GW is five times the amount of CdTe PV manufactured in 2013. The market is not yet even asking for the amount of tellurium apparently available.
While the researchers' estimate of wind power's EROI (16) is not as surprisingly low as solar's, the paper – which elsewhere complains about "outdated material databases" – uses Enercon's E-66 turbine in its estimates for wind power (see their chart above). The E-66 was sold from 1995 to 2005; the paper was submitted for publication in 2013. Only the authors know why they used a turbine nearly two decades old.
Perhaps the main problem with the paper is its claim that EROI "is the most important parameter." The energy payback of fossil fuels is only positive as long as we still have sufficient resources. The energy payback of renewables – or as the authors say, "renewables" – is positive even according to their paper, and their claim that an EROI of 7 is required to sustain society completely ignores the biggest source of energy gains: efficiency.
As for nuclear, no one is complaining that its energy payback is insufficient. Concerns about nuclear revolve around other issues not addressed in the paper: the risk of accidents during operation and the difficulty of storing nuclear waste safely for tens of thousands of years.
Craig Morris (@PPchef) is the lead author of German Energy Transition. He directs Petite Planète and writes every workday for Renewables International.