Germany may not have much sun, but it is positioning itself to sell products to those who do. But while some solar manufacturers continue to struggle, German patent registrations have boomed in recent years – not only for solar, but for wind power as well. Craig Morris investigates.
As a first mover in the transition to renewables, Germany aims to position itself as a provider of equipment for the production of renewable energy across the world. And according to recent data, these plans have started to pay off in recent years.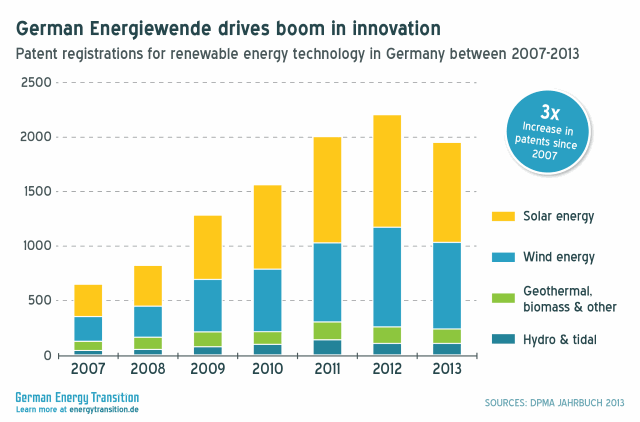 Look further into the data, and you see that "solar" also means concentrated solar power, not just photovoltaics. In CSP, sunlight is bundled – generally using mirrors – on a central receiver. The main two types are solar power towers and parabolic troughs. Such technologies were behind the Desertec idea (sun for Europe from the North African desert), which has not moved forward.
While both of these technologies are relatively expensive compared to photovoltaics, which also has become dramatically less expensive during the timeframe indicated above (whereas CSP has not), concentrated solar should actually be compared to photovoltaics with storage. After all, concentrated solar power first creates heat, which is easy to store; the heat is then used to generate power by means of a conventional turbine. CSP first provided around-the-clock power in 2011.
At more than 900 patents, solar made up the biggest share of the pie in 2013, followed closely by some 800 patents in the wind sector. Here, the main innovations are related to the rotor blades, the integration of wind turbines on the grid, offshore wind farms, and wind power storage.
The German Patent Office (DPMA) explained that such innovations are "partly due to the Renewable Energy Act (EEG), with its technology-specific feed-in tariffs for renewable electricity." The comment is especially interesting coming from an organization outside the renewables sector.
In recent months, the question of whether the EEG is a driver of innovation has been a major bone of contention in the German debate. Its critics charge that a lot of money has been spent without producing innovation. Usually, however, they are not able to point out what innovations have been produced elsewhere; it is simply assumed that policies to promote renewables provide windfall profits without promoting innovation.
Most prominently, in February a governmental advisory committee told the German government that the EEG "has not measurably affected innovation." Now, the German Patents Office has published something measurable.
The German Industry Ministry points out that, while patents related to renewables have skyrocketed in recent years, they only grew moderately in general by 3.2 percent from 2010 to 2012.
Obviously, there was also a downturn in 2013. It will be interesting to see whether the boom in recent years will continue. And of course, the big question concerns quality and quantity – were those patents minor tweaks, or did we have some real breakthroughs. Stay tuned…
Craig Morris (@PPchef) is the lead author of German Energy Transition. He directs Petite Planète and writes every workday for Renewables International.