The German Industry Ministry (BMWi) recently published a chart presenting an overview of the government's roadmap up to the end of 2016. Craig Morris says it is encouraging to see how much wider the scope is than just the power sector, but he noticed that one thing is still missing.
---
Here is our rendition of the chart in English: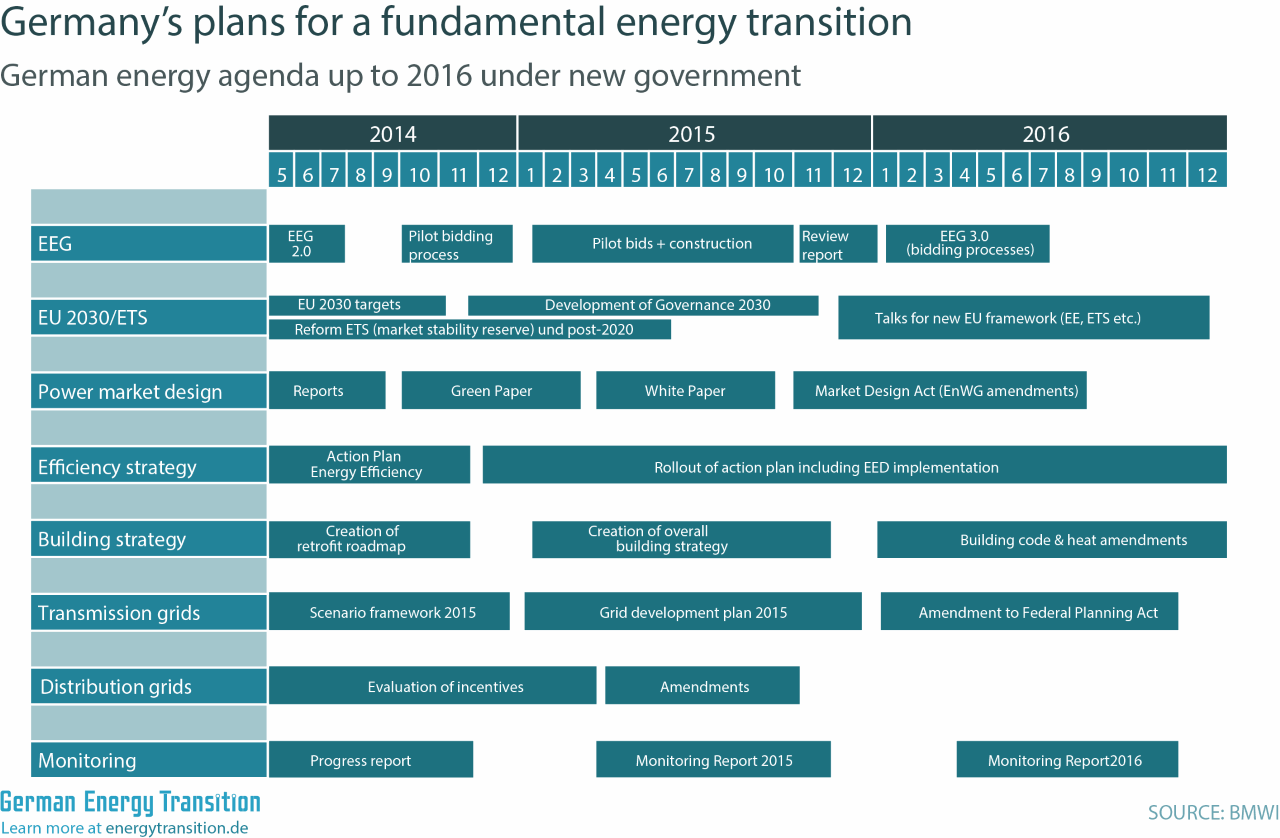 It's impressive in a way for its wide scope. At the top, "EEG" represents feed-in tariffs and the Renewable Energy Act – the thing that people talk about most. The power sector also occurs under transmission grids, distribution grids, and power market design. The first two address the sluggishness of German grid upgrades, while the latter will concern such things as capacity payments to ensure backup capacity to complement variable wind and solar power. Germany does not have a capacity market yet but could implement one by 2016. To learn more about how they work, I recommend Energy Post's recent summary of the UK's quite large capacity market announced in July.
Back at the top, we have EU matters. Germany has been a driver of ambitious EU targets for renewables, efficiency, and carbon emission reductions for 2030, and those negotiations are currently being wrapped up. Such targets are crucial for policies that support renewables at the level of member states. Courts repeatedly rule that policy support is legal because member states must fulfill such targets.
Germany has been less helpful, however, in making emissions trading (ETS) stricter. As we point out in the study German Coal Conundrum, a much higher carbon price will be needed for Germany to transition away from comparatively cheap coal power.
In the middle, we see two strategies, one for efficiency and another for the buildings sector. "EED" stands for the EU's Energy Efficiency Directive, so here Germany is simply doing its duty within the European Union. And when it comes to buildings, there is also the Nearly Zero-Energy Buildings requirement for new buildings within the EU by the end of 2020.
If I am starting to sound critical, that's because I am. The chart looks exhaustive at first but quickly turns out to be a list of things that most EU member states are also dealing with (or need to). Germany could do more. For buildings, the "retrofit roadmap" to be produced by the end of this year will be most interesting because the German building stock is renewed at such a slow rate. Furthermore, Germany pioneered Passive House architecture 25 years ago. Towns such as Frankfurt have adopted stricter building codes than the federal standard – but why is the federal standard not stricter?
Finally, the elephant in the room is, well, cars. Nowhere does the transport sector appear on this chart. Does the German government have any idea what it wants to do there? Other countries are moving faster, such as Finland. Helsinki recently announced a plan to integrate public transport with carpooling and taxis to reduce the need for car ownership. Germany is unlikely to implement any policy to curb car ownership lest profits at BMW, Mercedes, Volkswagen, Audi, and Porsche be detrimentally affected.
Likewise, while car companies from France's Peugeot to Japan's Toyota make forays into hybrids and electric vehicles, German car manufacturers remain asleep at the wheel. They continue to make luxury vehicles that seem out of place towards a sustainable future.
Granted, Germany has a target of a million electric vehicles on the road by 2020. Too bad it only had 14,700 on the road in 2013. But a recent study in German found that Germany might only miss this target by a relatively small margin, reaching 890,000 electric vehicles at the end of this decade.
Think of all the things that could be addressed:
charging stations
R&D in batteries and other innovations
the kind of cross-modal networking envisioned in Helsinki
promoting public transportation and cycling in general. Where are Germany's targets for bike paths, for instance?
Germany could easily do more, as could the EU. Brussels repeatedly calls for greater cross-border power trading, but where is the call for EU transport policy? I can't take a night train, say, from Frankfurt to Rome or Madrid. Trains continue to be stuck in national systems, and no one is complaining. Instead, Switzerland is the driver behind overnight trains with its City Night Line, but it has been reducing the number of connections in recent years, not increasing them.
So yes, the chart above does have a wide scope. But it is not exhaustive. There is still a lot of room for improvement.
Craig Morris (@PPchef) is the lead author of German Energy Transition. He directs Petite Planète and writes every workday for Renewables International.