On May 1, the entire editorial board at the New York Times published an article revealing an astonishing unfamiliarity with easily accessible facts. The NYT argues that Germany's energy transition proves that the world needs nuclear. Craig Morris explains.
---
Did you know:
If you knew all that, congratulations – you are probably a regular reader of my work, all of which is available for free online. If not, don't worry – you're probably not paid to know such things. But as we see from the article by "the editorial board" of the New York Times entitled "The right lessons from Chernobyl," some who are paid to know such things don't know them either. Given the list above of how other countries reacted, you can imagine my surprise upon reading this:
Only Germany succumbed to panic after the Fukushima disaster and began to phase out all nuclear power in favor of huge investments in renewable sources like wind and sun. One consequence has been at least a temporary increase in greenhouse emissions as Germany has been forced to fire up old coal- and gas-powered plants.
The facts for power from nuclear, coal, gas, and renewables are available for free here in German. Power from natural gas is down by around a quarter from 2011 to 2013 and continued to plummet in Q1 2014; gas is the big loser in the Energiewende.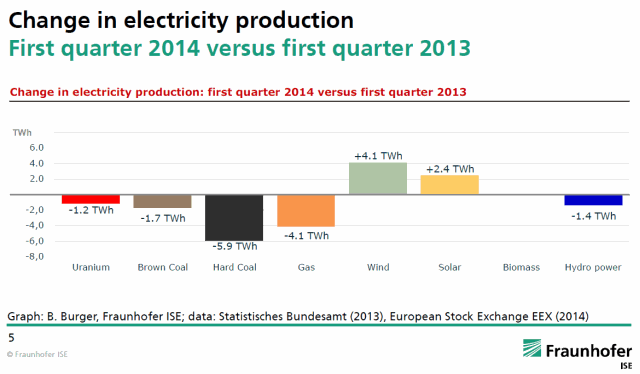 Renewables grew from 2011 to 2013 in the power sector by 27.9 TWh, far outstripping the drop in nuclear of only 10.7 TWh. The remainder – 17.2 TWh – is renewables offsetting power from fossil fuel, though mainly natural gas was offset because coal is cheaper.
Coal power was up in 2013, though less coal was consumed per kilowatt-hour, and coal power is markedly down in 2014. The main reason for the uptick in coal power from 2011-2013 is foreign demand. Germany had around 33 TWh of net power exports in 2013. Take out the Netherlands and France, the two biggest importers of German electricity, and coal power production drops. But then, pointing out that German carbon emissions are up partly because nuclear France is so reliant on German electricity is not in line with the New York Times' call for nuclear.
There lies the problem – criticism of Germany's energy transition is loudest among supporters of nuclear, whose main battle cry is now that we need carbon-free electricity, but renewables are not (yet) ready to do the job alone. Germany has set out to test that hypothesis, so it is crucial for nuclear supporters to prove Germany wrong. And the facts be damned.
Craig Morris (@PPchef) is the lead author of German Energy Transition. He directs Petite Planète and writes every workday for Renewables International. For some comments on the economic case for nuclear, particularly in the US, he recommends Andreas Krämer's post.