At the end of November, Germany's Thüga Group exported the first hydrogen made from electricity into the country's gas network at a point in Frankfurt. Craig Morris says the event could be the beginning of something big.
---
One of the most popular questions critics of the German energy transition ask is what you do when there is no wind or solar power. It's not a bad question – on the contrary, it's the most important one for the power sector.
Take a look at the chart below from Agora Energiewende's website showing the power production from November 13 to November 15. From bottom to top, we have power from biomass (green), hydropower (light blue), wind power (dark blue), solar (yellow), and then the big gray area representing conventional power. The red line across the top represents consumption, so all of the generation above that red line is power for export.
In the winter, Germany has little sun right when power demand peaks for the year – in this case, just below 80 GW. Solar barely appears, and wind power drops to a meager 0.292 GW at 3 AM on November 15 – when there is simultaneously 0 GW of solar.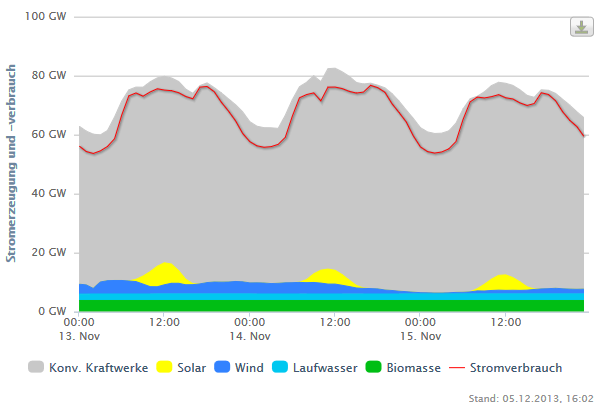 Clearly, what is needed here is not hourly or even daily power storage, but seasonal – and the best way to do that is chemically.
This is where power-to-gas (P2G) comes in. Excess electricity from the summer could be used to split water into hydrogen and oxygen, and the hydrogen could be stored in existing natural gas networks – no additional storage infrastructure needed. Germany has an estimated four months' worth of power storage capacity in its gas networks today, and because gas can be used to power vehicles, for cooking, to provide heat, and to generate electricity, it is versatile.
Now, Thüga has exported the first hydrogen from electrolysis to the natural gas network. The firm says it plans to go into official operation at the beginning of 2014 after a test run. The practical test under operating conditions will last for nearly 3 years until the end of 2016. The unit under investigation has a power capacity of 315 kilowatts and can produce 60 cubic meters of hydrogen per hour.
Because hydrogen is not synonymous with natural gas, the firm keeps the share of hydrogen below two percent of the volume within the gas network. A presentation by German energy conglomerate Eon discusses the differences between the properties of hydrogen and natural gas and concludes that 10 percent hydrogen is generally not problematic and even has some positive side effects (PDF). A study by NREL published in March 2013 also found that 5-15 percent hydrogen in natural gas lines was not expected to cause problems.
Of course, new systems could be designed to accommodate a higher share of hydrogen, but at some point the question of cost arises. As I recently explained, competitiveness could still be two decades away. But never mind – Germany's target for 2050 is only 80 percent renewable power. And by 2035, we might look back at Thüga's announcement and say, "That was when the seasonal storage of renewable power started – the last piece of the puzzle towards 100 percent renewable electricity."
Craig Morris (@PPchef) is the lead author of German Energy Transition. He directs Petite Planète and writes every workday for Renewables International.