A proper analysis of the composition of German electricity and the effects of renewables is often difficult to conduct as contradictory interpretations clash. Guest Author Paul Gipe from Wind-Works.org takes a step back and looks at the most recent data from a long-term perspective to shed some light on the developments caused by the energiewende.
---
Apparently my article last October documenting the growth of renewables in Germany while nuclear generation continues to decline got under the skin of pro-nuclear bloggers.
So at the request of a reader, I am updating my charts on the electricity mix in Germany from 1990 through 2012. These charts are from public information, easily accessible with rudimentary German.
First, the total mix.

As can be seen, renewables continue their steady increase. No surprises there. Hard coal arrests its decline and there's a slight uptick in brown coal generation.
---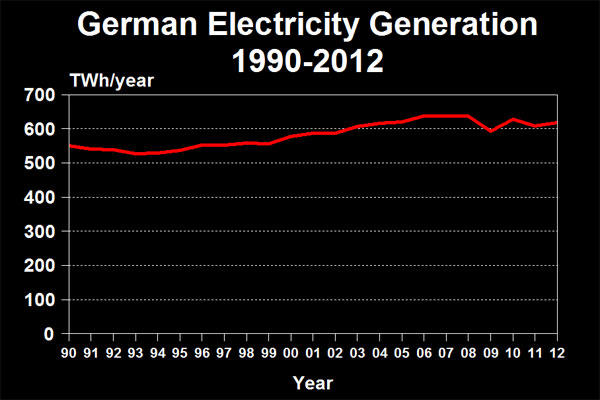 Total generation of electricity in Germany remains relatively constant at 617 TWh in 2012.
---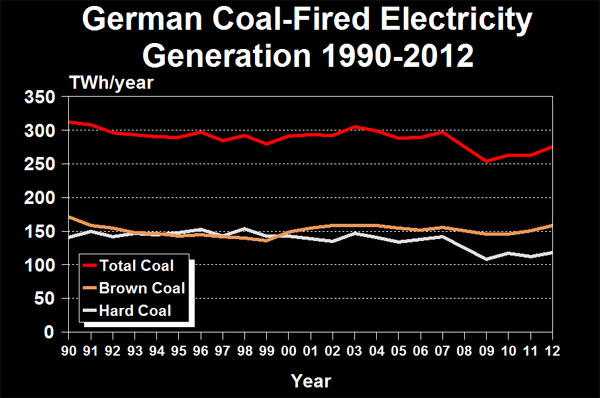 In 2012 there was a slight uptick in coal-fired generation, mostly from brown coal. Generation from hard coal increased from 112 TWh to 118 TWh, about as much as the 117 TWh produced in 2010. Generation from brown coal increased from 150 TWh in 2011 to 158 TWh in 2012. Total coal-fired generation has increase about 25 TWh from a low of 254 TWh at the height of the Great Recession in 2009.
---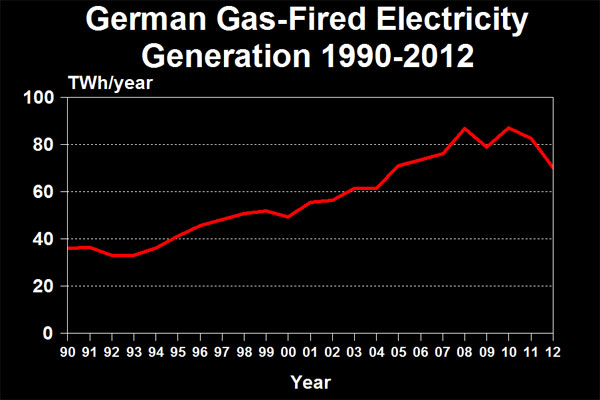 Despite a steady increase in gas-fired generation from the early 1990s through 2008, generation dropped dramatically in 2012 following a more gradual decline in 2011. Critics of the nuclear phase-out have charged that Germany is simply replacing nuclear with gas-fired generation. Apparently that's not the case. Despite a slight increase in total generation in 2012, gas-fired generation dropped from 83 TWh in 2011 to 70 TWh. Gas-fired generation in Germany is now at the level last recorded in 2005 during the boom years prior to the Great Recession.
---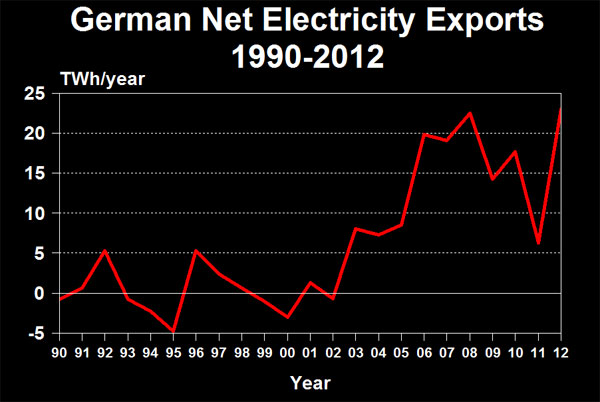 Now on to the oft-repeated but never substantiated charge that Germany may be phasing out its nuclear plants but it is just turning around and importing nuclear-generated electricity from France. There was concern that German electricity exports would continue their fall from 2011, but that appears unwarranted. German exports of electricity surged in 2012. Net exports reached 23 TWh in 2012 for nearly 4% of total generation.
---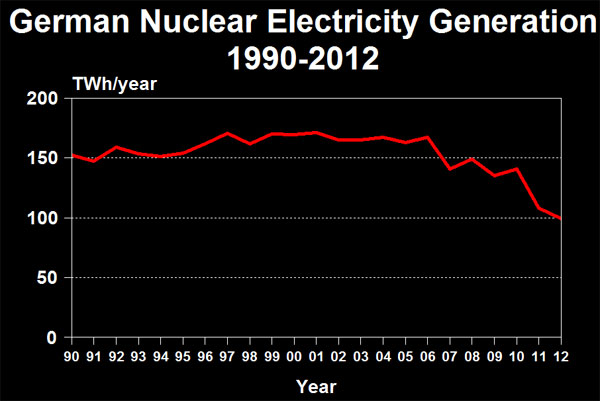 German nuclear generation continues to fall. For the first time in at least two decades nuclear generation fell below 100 TWh. Nuclear generation is now well below generation by new renewables (wind, solar, and biomass).
---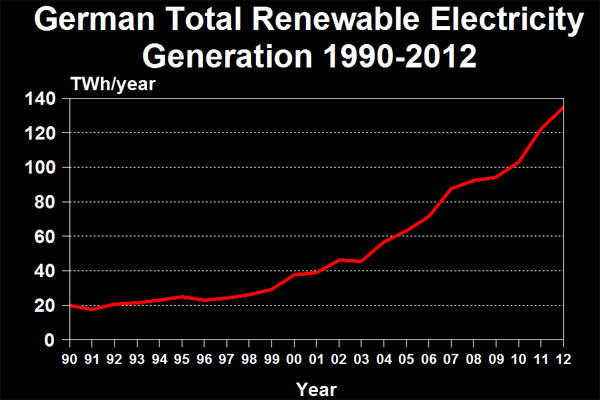 Total renewable generation grew steadily to about 135 TWh, 35 TWh more than that from nuclear generation. Total renewable generation includes existing hydro about 20 TWh per year depending upon rainfall.
---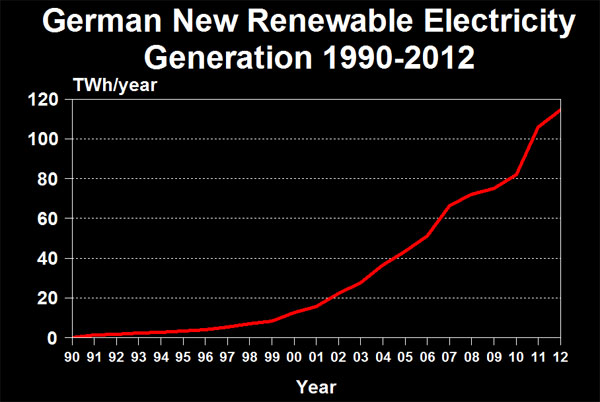 New renewable generation continued its remarkable growth in Germany in 2012, reaching nearly 115 TWh. Most growth has taken place since the country introduced a modern system of feed-in tariffs in the year 2000. New renewables now compares with the generation from hard coal and exceeds that from natural gas, nuclear, oil, and existing hydro.
---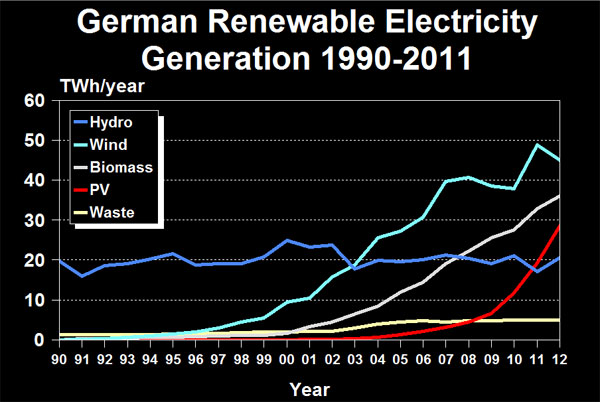 Solar photovoltaics (solar PV) continued its meteoric growth in 2012. Solar PV generated 29 TWh in 2012 or nearly 5% of total generation. Wind accounted for a little more than 7% of generation and biomass provided nearly 6% of generation.
---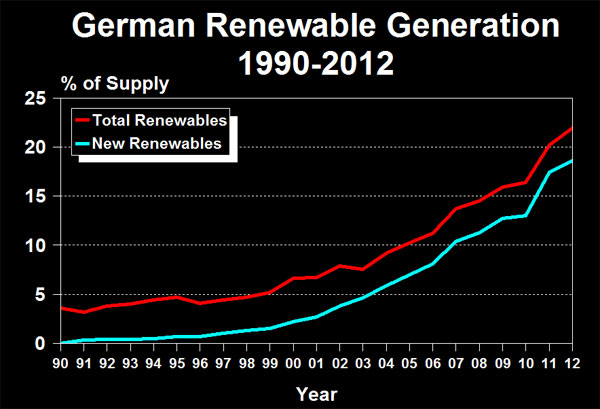 Renewable generation provided nearly 22% of total generation in 2012. Within a few years, renewables will account for one-fourth of all German electricity generation. New renewables accounted for nearly 19% of total German generation in 2012.
These comparisons are based on total generation and may not compare to other reports comparing the contribution of renewables to electricity consumption, 594 TWh.
Paul Gipe is a renewable energy industry analyst that has published several books on the topic. He first published this article on his website, wind-works.org.